Good Neighbours: Carpet tribute to brave hockey fan
Nov 07 2011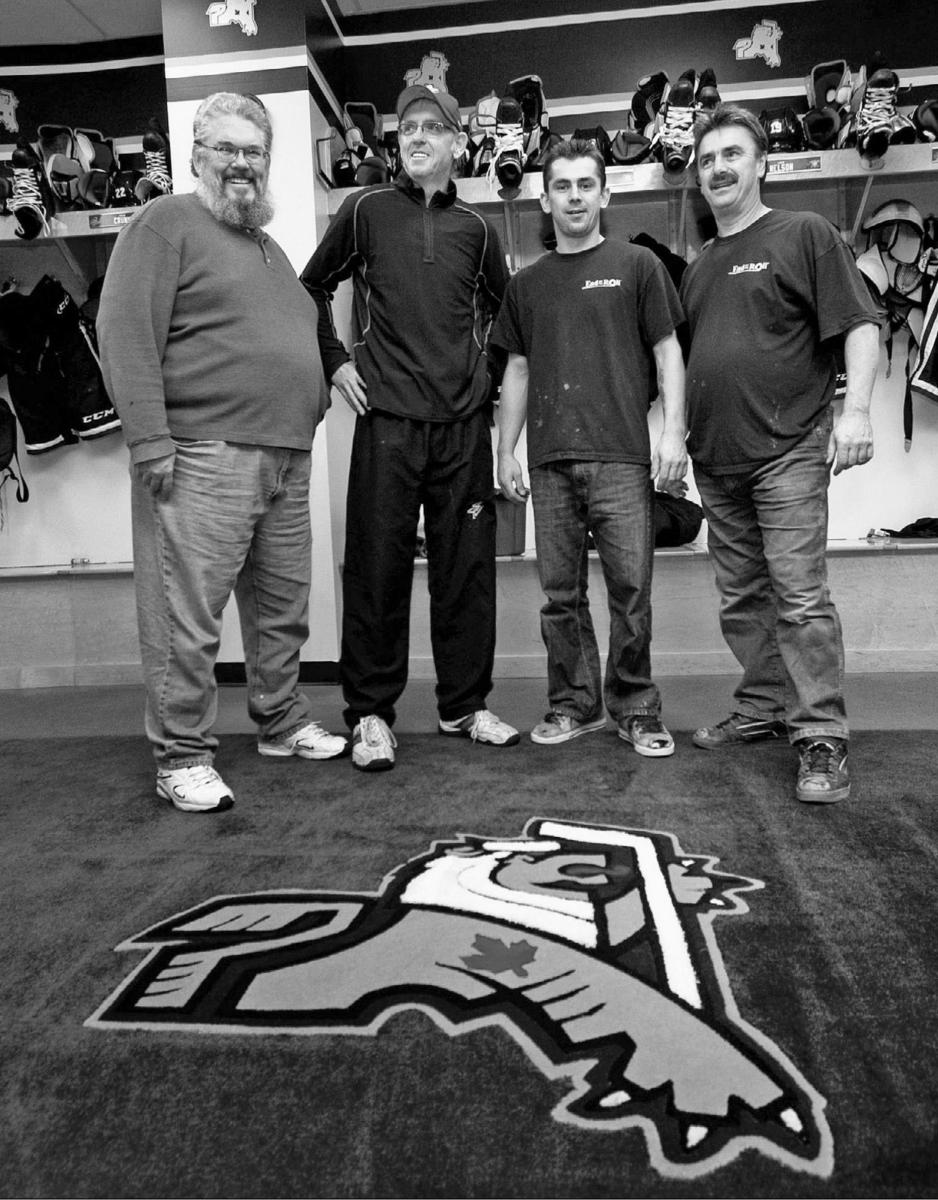 Left to right, Neil Klassen, Dan Conners, Kyle Twinn and Todd Twinn in the Victoria Royals' dressing room next to the carpet logo, the underside of which has their message in honour of the late Dan Twinn.
Photograph by:
Darren Stone, Times Colonist, Times Colonist
There is something more than carefully shaped pieces of carpet making up the Victoria Royals logo in their dressing room at Save-on-Foods Memorial Centre.
If you were to look at the underside, you'd see a message to honour the late Dan Twinn signed by four people - his brother, Todd, his nephew, Kyle, and friends Dan Conners and Neil Klassen. Klassen made the arrangements for the task, while the others all had a hand in the many hours it took to complete the design.
End of the Roll donated the materials.
Several years before, Dan Twinn and Conners (known as "double Dans" because of their close friendship) had worked together to make a carpet logo for the centre's former tenants, the ECHL Victoria Salmon Kings. Their creation took on special meaning in 2008 when Dan Twinn lost his battle with leukemia.
When the Royals came to town, Conners was again contacted about adorning the home dressing room with a carpet logo.
The link to his late friend was obvious, so he enlisted Todd and Kyle to help.
Royals coach and general manager Marc Habscheid said the players appreciate the logo's significance.
Conners said that thinking of his friend recalls a period in the mid-1990s when the Twinn family was prominent in local headlines. Dan Twinn and his then threeyear-old son, Kurtis, were involved in a rare parent-to-child transplant made necessary by the toddler's severe kidney condition.
Dad turned out to be the best available donor, even though his donated kidney was a tight fit for Kurtis's small body. The transplant was successfully performed in 1995.
Life went along for the Twinns until 2003, when Dan was diagnosed with leukemia. By 2008, he was in need of a transplant himself, a bone-marrow transplant, but a compatible donor was never found and he died on Oct. 30 that year.
Conners said that being able to make something for his buddy means a lot.
"It's like a legacy. It keeps his memory."
jwbell@timescolonist.com
We thought you might also be interested in..