Defence Department ponders how to slash workforce
Nov 07 2011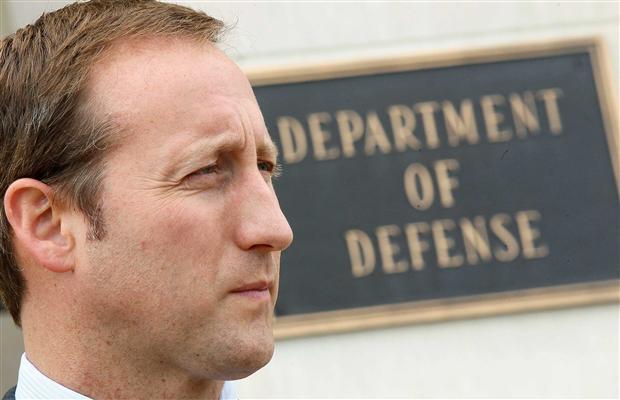 Canadian Minister of National Defence Peter MacKay listens to Secretary of Defense Leon E. Panetta speak to the media at the Pentagon in Arlington, Virginia.
Photograph by:
Mark Wilson, Getty Images
The Defence Department has quietly outlined to its managers the procedures needed to lay off public servants as well as what such workers could be offered, including two years worth of retraining and up to a year's salary, according to documents obtained by the Ottawa Citizen.
Cynthia Binnington, DND's assistant deputy minister for civilian human resources, outlined in a briefing that various "mechanisms to achieve reduction objectives" will be used, including a hiring freeze, attrition and layoffs.
DND's Deputy Minister Robert Fonberg is required to make a reasonable job offer to those whose job has been cut, according to the documents.
But where he can't do that, there are various options, including "a cash payment of up to 52 weeks' pay based on employee's years of service in exchange for resignation," notes the briefing. Older workers taking that option would also have pension penalties waived.
Another option, according to Binnington, would be offering the same cash payments as well as "up to $10,000 for reimbursement of tuition, books and equipment."
If there is no reasonable job offer coming from the deputy minister, an employee must be given 120 days to consider their options, Binnington points out.
The Defence Department has not released how many of its employees would be laid off.
In May the vice chief of the defence staff Vice-Admiral Bruce Donaldson noted in an internal report that 2,100 public service civilian jobs would be eliminated over the next three years with more "adjustments" to follow. A recent report by Lt.-Gen. Andrew Leslie suggested that the jobs of 3,500 public servants at DND should be cut. There are almost 27,000 civilian public servants currently working in the department.
Asked to comment, DND sent an email noting that "a workforce management approach has been developed to manage the civilian workforce."
"At this time, no decisions have been taken with regard to specific civilian workforce reductions," the email stated. "Wherever possible, required reductions will be achieved through attrition."
In some cases, DND employees will be required to move as their work might be transferred to new locations. According to Binnington's briefing, those employees must be given six months to decide whether to move. If they decline then they will be given a reasonable job offer.
There are also options for retraining. "When an employee is surplus, he/she is entitled to up to two years of retraining," according to Binnington's briefing.
Despite its claims to the contrary, department documents leaked to the Citizen indicate that DND and the various military services already have an idea of how many employees they want to cut. One document points out that the Canadian army wants to cut 250 civilian staff, at least initially.
The documents — the army's civilian human resources planning guidance for the next three years as well as an email from Brig.-Gen. M.R. Dabros, the army's chief of staff for land operations — outline the need to focus on eliminating full-time civilian public service positions.
The cuts, 250 across the country, are described as "modest" in emails written in July.
The army documents also detail how it is now up to management staff in the various areas across the country to determine which jobs to cut. It notes that besides the 250 positions, additional "civilian FTE (Full Time Equivalents) reduction targets" will be determined by Donaldson and Binnington.
A two-phase approach would be put into place to eliminate positions.
"The first phase will use attrition to create flexibility," the documents note. "The second phase will focus on rebalancing the various components of the defence team workforce."
Similar studies have been done or are underway in the other services.
The size of the military and DND went from 112,377 in 2004 to 132,870 in 2010 as the Canadian Forces dealt with the war in Afghanistan. Most of the growth was in headquarters jobs.
The upper echelons of DND's senior public service also experienced significant growth. In the top executive categories there are now 158 individuals, a report delivered this summer by Leslie found.
"The findings indicate that there was a 42 per cent growth in DND civilian executives in the past five years," the Leslie report notes.
But there does not appear to be any plans to cut the senior civilian public service ranks or the senior military ranks in the Canadian Forces or at DND.
The Defence Department has also changed the rules covering its part-time employees. Those term employees in the department will no longer be allowed to count their days on the job toward a full-time position.
Under public service rules, after three years of continuous work, a term employee becomes full-time.
Ottawa Citizen
We thought you might also be interested in..