Civic vote: Veteran councillors vie to replace retiring Mar in Central Saanich
Nov 08 2011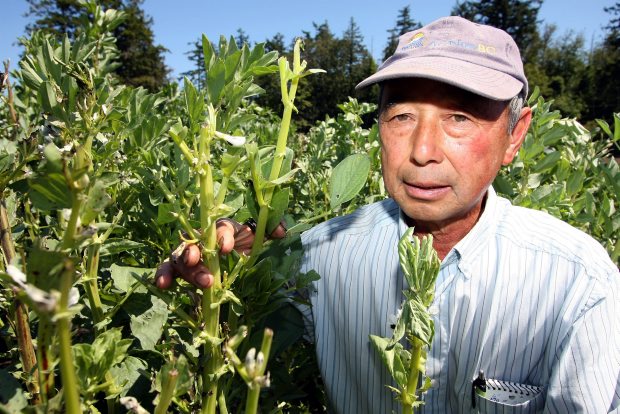 Jack Mar: Not seeking re-election.
Photograph by:
Bruce Stotesbury, timescolonist.com
Central Saanich voters have a choice between two veteran councillors to lead their municipality for the next three years.
Incumbent councillor Alastair Bryson, 52, and former councillor Christopher Graham, 33, are vying for the mayor's chair, up for grabs Nov. 19 after Jack Mar decided not to seek reelection.
Bryson, a veterinarian and farmer, has been on council for the last six years. Graham, who owns a kayaking company and is also a farmer, has sat on council for 12 years, although not the last term after running for mayor and losing to Mar. He was first elected at 18.
It's given him "twice the experience" Bryson has, said Graham, who is critical of what he views as a lack of leadership on council in the last term.
"This last council hasn't had a hand on the tiller really. They've been reacting and flipping and flopping around, reacting to different hot spots, getting neighbourhoods upset when I think there are some real projects the municipality should be taking on," Graham said.
Bryson said decisions made by the most recent council were consistent with the municipality's Official Community Plan, which was reviewed in 2008 by a committee on which both he and Graham served.
While larger-scale development in Central Saanich was an issue during the last term, when the controversial Vantreight housing development was approved, it's smaller development and who can live in secondary suites that are on the radar this term.
Graham has made much of Bryson bringing forward a change to the secondarysuites bylaw that removes a condition requiring such homes to be owner-occupied in order for a suite to be rented.
Central Saanich was one of the first municipalities in the region to legalize secondary suites. When it did so in 2005, a survey found that 88 per cent of the public would support secondary suites only if the houses were owner-occupied, Graham said.
Removing that condition allows land spectators to buy up houses and rent out suites, Graham said.
"It turns it much more into a rental neighbourhood, which really can change the dynamic," Graham said. "I believe the public was very clear that they did not support this."
Bryson said he thought it was morally and legally wrong to discriminate against renters, so he brought the motion to council to see whether there was support for the change. There was and it passed.
The previous bylaw allowed single-family, owner-occupied homes to have a rental suite. However, if the single family home were occupied by renters, no suite was allowed.
"This is a land-use bylaw that is providing different opportunities for two different groups of people. I saw this personally as discriminatory," Bryson said.
As for what Graham calls "spot zoning," Bryson said allowing single-family properties to be subdivided into two lots or to allow building of carriage houses is simply applying the community plan. The plan calls for increasing density in certain areas of the municipality so that farmland is used for agriculture.
Both candidates have similar thoughts on the Keating Industrial Park, wanting to find ways to encourage business in the area. Access to Keating off the Pat Bay Highway is a key concern, and both want to lobby senior governments to share funding to create an overpass.
Graham said he has more experience working with other levels of government, something he says Bryson lacks. "He barely leaves the municipality."
Bryson, interviewed before heading to a Capital Regional District committee, said he has years of experience dealing with stakeholders and senior levels of government.
kwestad@timescolonist.com
We thought you might also be interested in..