Driver given 7-year term for deadly Malahat crash
Nov 08 2011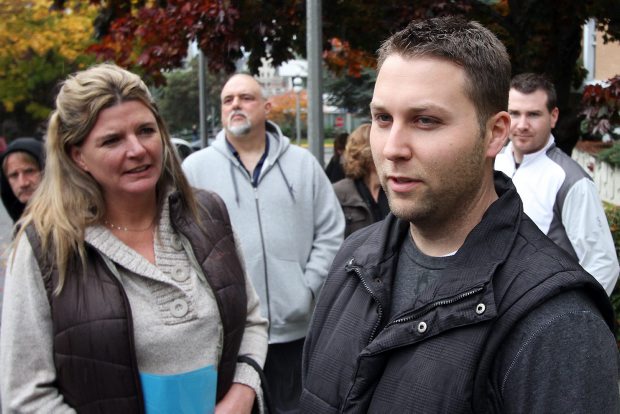 Colin Ralph, right, the son of Martha Ralph who was killed with her partner Larry Machnee on the Malahat, speaks to the media after the sentencing of Lucas Brown at the courthouse on Monday. Ralph called Brown's courtroom apology "utter crap."
Photograph by:
Adrian Lam, timescolonist.com
A North Vancouver man who killed two motorcyclists on the Malahat in February 2010 has been sentenced to seven years in prison and is prohibited from driving for 10 years after his release.
At an emotional and crowded hearing Monday, B.C. Supreme Court Justice Robert Johnston sentenced Lucas Ian Brown, 26, to five years for criminal negligence causing the death of Martha Ralph, 56, and five years for criminal negligence causing the death of her partner Lawrence Machnee, 59. The sentences are to be served concurrently. Brown received more prison time for a crime spree that ended with the two deaths.
On the morning of Feb. 20, 2010, Brown stole a car and a credit card from a home in North Vancouver, while the occupants were sleeping upstairs.
Brown was captured on video driving through the toll booth at the Horseshoe Bay ferry terminal a couple of hours later, heading to Vancouver Island. Several drivers testified they saw the car tailgating, swerving and travelling at speeds of 150 kilometres an hour.
Around 12:30 p.m., Brown made an illegal left turn into the path of Ralph and Machnee, who were on the bike, heading up the Malahat to Ralph's sister's 60th birthday party in Duncan. Machnee died at the scene. Ralph died in hospital.
Witnesses saw Brown get out of the car, look at the crash and grab a jacket before running down a driveway into the woods. Police arrested Brown at the Mill Bay ferry the next day.
At the time, Brown was suspended from driving. Police found empty beer cans in the car.
Johnston also handed Brown consecutive sentences of one year for failing to remain at the scene of an accident, six months for breaking into the North Vancouver home and six months for breaking into Bamberton Properties in Mill Bay. Brown must also serve concurrent sentences of three months for stealing a car and a credit card from the North Vancouver home.
Because Brown was arrested on Feb. 21, 2010 — the day before the federal government eliminated a provision that allows convicts to claim two-for-one sentencing time for time spent in pre-trial custody — Johnston credited him with 41 months for the 20.5 months he has spent in custody. This means Brown has three years and seven months left to serve on his sentence. He must also submit a sample of his DNA.
Before he imposed the sentence, Johnston asked Brown if he had anything he wanted to say. Brown, who appeared surprised by the question, remained sitting and quickly said: "I
didn't mean to hurt anybody. I'm sorry."
Johnston said he suspects there may be a medical or psychiatric explanation for Brown's criminal activity, but Brown's refusal to co-operate with the court-ordered psychiatrist has left an incomplete profile.
"I can't say I understand him or the offences committed," said the judge.
Outside court, family and friends of the Saanich couple said they were disappointed Brown was given two-for-one credit for time already spent in custody.
Martha's son, Colin Ralph, said he had hoped Brown would serve another five years.
"No time would have been enough, even if it was life," Colin Ralph said. "Nothing is going to replace the fact that two people are gone. We have to live with that the rest of our lives. He's going to carry on with his life in three years when he's out."
Ralph called Brown's apology "utter crap." True remorse would have involved staying at the scene or pleading guilty, he said.
"[The victims] were two of the most unique people ever. They loved life, loved living every minute of it and loved their families," Ralph said. "They will definitely be missed."
ldickson@timescolonist.com
We thought you might also be interested in..