Victoria playwright Joan MacLeod wins top theatre award
Nov 08 2011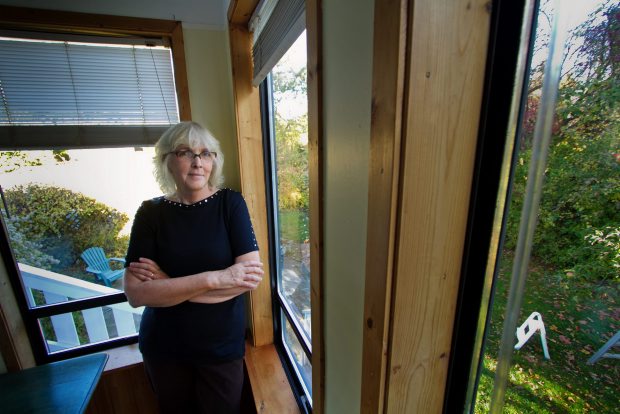 Joan MacLeod: Works focus largely on social issues.
Photograph by:
Darren Stone, timescolonist.com
Victoria playwright Joan MacLeod, writer of a widely produced and award-winning play loosely based on the Reena Virk story, has won the $100,000 Siminovitch Prize, Canada's richest theatre award.
MacLeod was presented the award Monday at a ceremony in Toronto. She received a cheque for $75,000. The Siminovitch Prize is split into a mentorship component; MacLeod has selected as her protégé Toronto playwright Anusree Roy, who receives $25,000.
The other finalists for the prize were Robert Chafe, Jasmine Dubé, Greg MacArthur, Mansel Robinson and Larry Tremblay.
A high school dropout who became an internationally recognized playwright, MacLeod is best known for The Shape of a Girl, produced continuously since its 2001 première. Inspired by the Reena Virk murder, The Shape of a Girl has been staged more than 30 times and translated into eight languages. Her other plays include: Another Home Invasion, Homechild, Amigo's Blue Guitar and Toronto, Mississippi.
MacLeod, 57, was also shortlisted for the Siminovitch Prize in 2005.
Her previous awards include the Governor General's Award in Drama for Amigo's Blue Guitar, the Chalmers Canadian Play Award and the Jessie Richardson and Betty Mitchell awards.
MacLeod said she learned three weeks ago she'd won the Siminovitch Prize. But, sworn to secrecy, she told only her husband at first. She got the news by cellphone en route to Nanaimo from Vancouver.
"I was on the deck of the ferry with my mother-in-law," MacLeod said. "I had to keep it confidential. And I was in a public place; I couldn't dance around. It was kind of surreal."
She said the $75,000 will enable her to reduce her teaching load at the University of Victoria from full-time to part-time, beginning next year. MacLeod, chairwoman of the writing department, is an associate professor of playwrighting.
"My life is going to get less frantic, less busy. So I can write more," she said.
Many of her works focus on social issues, often from a family perspective. She is currently writing What to Expect, which looks at an altercation between a teenage boy and a police officer on Vancouver's SkyTrain. The drama will have its première next year.
Her interest in social and political issues dates to her youth growing up in North Vancouver. She became politically active as a teen, joining in demonstrations against nuclear testing and the Vietnam War.
Although she wrote poetry voraciously back then, MacLeod said she was "an awful student," dropping out of high school in 1971. After backpacking through Europe and North Africa, MacLeod embarked on a course of creative writing studies, graduating with a degree from UVic in 1978 and then completing a master's degree at the University of British Columbia.
MacLeod credits the encouragement of UVic authors and instructors Bill Valgardson and David Godfrey for getting her started as a writer.
"They believed in my voice and thought I had talent," she said. "That really meant a lot to me."
Her early influences were Canadian writers such as Margaret Laurence and Alice Munro. MacLeod said, as a young girl, she was also deeply affected by Joni Mitchell's work. "I survived on Joni Mitchell as an adolescent," MacLeod said with a laugh. "She was hugely important to me."
achamberlain@timescolonist.com
We thought you might also be interested in..