No confirmed cases of virus found in B.C. salmon
Nov 09 2011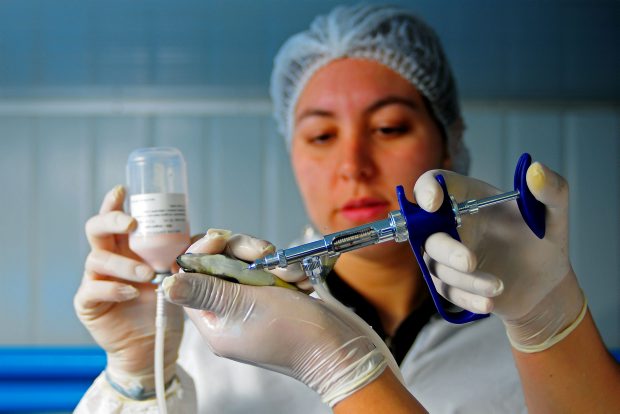 Biologists inject the experimental anti-ISA virus vaccine to a salmon in a lab in Puerto Montt, 1000 km south of Santiago.
Photograph by:
Francisco Negroni, AFP/Getty Images, Francisco Negroni, AFP/Getty Images
No confirmed cases of infectious salmon anemia have been found in B.C. wild or farmed salmon tested by the federal government, spokesmen for the Canadian Food Inspection Agency and Fisheries and Oceans said Tuesday.
Results of follow-up tests, carried out at DFO's reference laboratory in Moncton, run contrary to findings from tests on the same fish samples conducted at the University of Prince Edward Island, but confirm results from an independent laboratory in Norway, said Con Kiley, director of the CFIA's national aquatic animal health program.
However, some questions remain, Kiley said.
"The supplementary results must be considered inconclusive because of the poor quality of the samples," he said, adding, "Additional testing will continue and the results will be provided when we are ready."
The timing of further testing will be decided by scientists, Kiley said.
Peter Wright, national manager of DFO's research and diagnostic laboratory system, said the samples were received in such poor condition that no definite conclusions could be drawn.
"Most are halfway or totally, totally degraded," he said.
The virus has various lethal and non-lethal strains. It is believed the European strain, which has devastated salmon farms in Norway, Chile and eastern Canada, kills Atlantic salmon, which are grown in B.C. fish farms, but has less effect on Pacific salmon.
Most of the samples were collected by biologist Alexandra Morton, who fears the virus could have been introduced to the north Pacific through salmon eggs imported by fish farms.
Morton said she wonders why, if the original samples were degraded, tests are not being done on fresh samples she has submitted and why DFO is not immediately collecting more samples.
"If the samples are degraded, what confidence can we have in the tests?" Morton asked.
"Given the very severe nature of this virus, wouldn't it be wise to be testing out here? I don't understand how they can be saying the coast is clear given the poor quality of the samples."
Mary Ellen Walling, executive director of the B.C. Salmon Farmers Association, said the results are welcome news.
"This is a significant result for everyone involved — researchers, regulators, wild salmon advocates, salmon farmers and our coastal communities," she said.
Initial allegations, made at a news conference at Simon Fraser University, that the virus had been found in wild salmon were inflammatory and potentially affected international markets, she said.
"We're pleased to see the thorough way CFIA is following up, but are dismayed at the way campaigners used this to create fear about our operations," she said.
jlavoie@timescolonist.com
We thought you might also be interested in..