City takes steps to evict Occupy Victoria protesters; tree-sitter sent to hospital
Nov 09 2011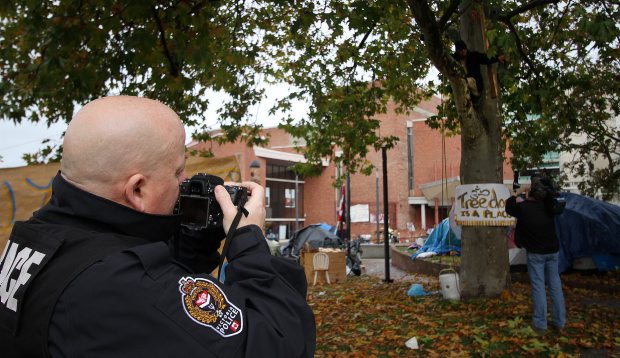 Victoria Police detective Ken Ramsay documents Lyle Barrette in the tree at the Occupy Victoria site at Centennial Square.
Photograph by:
Adrian Lam, Times Colonist
Occupy Victoria protesters will meet today to discuss how to deal with an application for an injunction by the City of Victoria to remove the tents and structures in Centennial Square.
"We have no confirmed legal plans or strategy yet," said Anushka Nagji, a third-year law student at the University of Victoria, who spends weekends and some evenings at the site that began as part of the international Occupy movement on Oct. 15.
The city's application will be heard by B.C. Supreme Court next Tuesday.
A similar application began Tuesday in Vancouver over the Occupy Vancouver protest and is to continue today. Vancouver went to court to ask for an injunction after the death at the protest site Saturday of Victoria woman Ashlie Gough. Vancouver police also said two police officers were sent to hospital Monday with "human bite wounds" after they attempted to stop protesters from pushing and shoving firefighters who were trying to put out a fire in a barrel.
The Victoria camp has had numerous calls to police. On Tuesday, a city worker was doused in urine when he tried to remove a bicycle tied high in a tree, where one camper is staying.
Municipal staff feared the bike was a danger to people below. The city worker was lifted near the bike in a truck bucket. Liquid was dumped on him, hitting his hardhat, face and overalls. The man was disoriented for a few seconds before saying, "That's pee," and retching.
The unidentified worker was quickly brought down.
The man in the tree identified himself as Lyle Barrette. He said the liquid was apple juice.
"So what, big deal," he said, when asked about the incident.
Asked what he'd do if city workers or police try to remove his bike again, Barrette said he had rotten eggs and dog feces that he would throw if anyone tried to take his property.
Police chose not to try to remove the man from the tree, but said he will face an assault charge. The 47-year-old man later came down voluntarily and was taken to hospital for a mental health assessment.
Officers have been called to the area for general service 63 times, not including Tuesday's altercation, since the occupation began, Victoria police spokesman Mike Russell said.
The situation has become so untenable that it almost requires a "constant police presence", he said.
Victoria wants the protesters to leave the square for reasons of public health and safety and so that it can be prepared for Christmas activities.
City bylaw officers served protesters Tuesday with copies of the city's petition for a court order.
The area of Centennial Square inhabited by Occupy Victoria protesters and others includes about 25 tents, a makeshift camp in a tree and several structures, used to serve food and hang clothes.
So far, the group does not have official legal representation for the injunction application but members said several lawyers have come by the site and were supportive.
One possibility is a Charter of Rights challenge to the city bylaws that allow people to camp in Centennial Square, but say gear must be removed in the morning, Nagji said. The protesters want the encampment to stay up all day. The bylaw could be contrary to the Charter right to freedom of speech and peaceful assembly, Nagji said.
ceharnett@timescolonist.com
kwestad@timescolonist.com
We thought you might also be interested in..