Homeless shelter marks first anniversary in Rock Bay
Nov 09 2011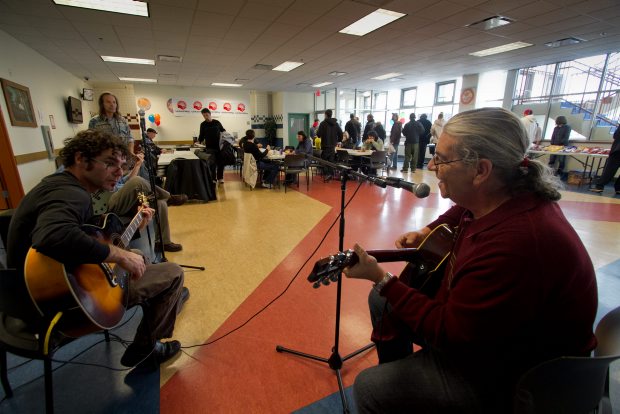 Volunteer James Luker entertains at a lunch to celebrate the first year of the Rock Bay Landing facility.
Photograph by:
Darren Stone, timescolonist.com
The sidewalk was sparkling clean outside Rock Bay Landing Tuesday as the shelter celebrated its first anniversary.
"We have groups who pick up the garbage and sharps," said Cool Aid Society's shelters manager Don McTavish, admitting that extra cleanup work was done in preparation for the birthday party.
Even smoking in the immediate vicinity of the shelter is being discouraged to keep neighbours happy, he said, as pungent smoke wafted up from a nearby group and an agitated man brushed past, swearing to himself.
Some clients can be challenging, but the cleanups, community policing and regular meetings with neighbours and local businesses have helped to integrate the shelter into a community that, one year ago, was skeptical about its new neighbour, McTavish said.
"Not everyone is looking at us under a microscope now. We are here and we are part of the neighbourhood," he said.
Even fears that the shelter's move from downtown to Ellice Street would displace prostitutes working on the adjacent stroll, sending them into residential areas, seem to have been unfounded, McTavish said.
"We still see the working women in this area and I prefer that because, if they need help, they can come to us," he said.
The Rock has 84 shelter beds, 23 units of transitional housing and two family units, run in partnership with Burnside Gorge Community Centre, which have been filled since the shelter opened. "Ten families have gone through and there have been no problems with the different populations," McTavish said.
The need for shelter in Victoria was emphasized by the recent addition of 40 mats on the common-room floor so people would not be left sitting up all night waiting for a bed or heading back onto the street to take their chances.
"These people are so happy to have a mat I feel embarrassed. We're not offering them any real services," McTavish said.
Over the past six months, the occupancy rate at Rock Bay has been 99 per cent and, as the weather gets cold, the mats are being used most nights.
Inside, the public rooms are bright and airy. Meals, laundry facilities, computer access and counselling are among services offered.
There is a cart storage area and rooms where pets can be accommodated.
"We've had guinea pigs and a budgie. Someone had a rat and we've had a couple of dogs and a cat," McTavish said.
It is the first stay at Rock Bay for Mervyn Warriner, who recently moved to Victoria from up-Island and is looking for a job as a cook and somewhere to live. "It's a pretty good place and they're pretty easygoing," said Warriner, whose only complaint is that he would like to be able to stay at the shelter for longer than 30 days.
Like many others living temporarily at Rock Bay Landing, he found himself there because the cost of housing in Victoria is prohibitive, said Warriner, who does not know where he will go when his 30 days are up.
jlavoie@timescolonist.com
We thought you might also be interested in..