Social planning council is part of city's history
Nov 09 2011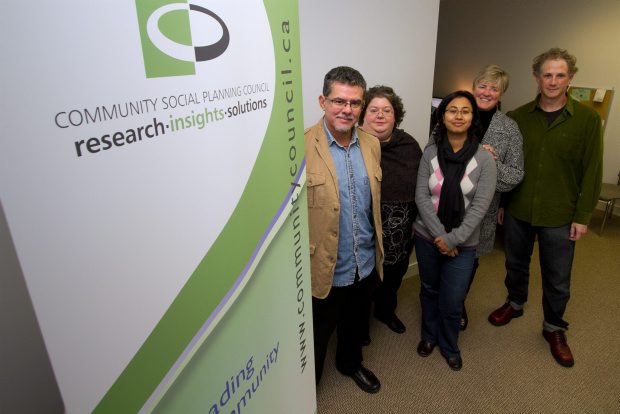 Staff of the Community Social Planning Council, from left, Alvaro Moreno, Mary Katherine Ross, Dibya Shrestha, Christine Coates and Brian Hill.
Photograph by:
Darren Stone, timescolonist.com
Victoria and the Community Social Planning Council have been through a lot together.
It all started in 1936, when the group was created as the Council of Social Agencies. It continues today, 75 years later.
"Alleviating poverty and social disadvantage in the teeth of the Depression, that's how it came to be," said executive director Rupert Downing. "It worked after the war in helping returning service-people and armed forces personnel with housing needs."
The council has turned into a bigger operation over the decades, but affordable housing and poverty reduction remain key goals. Celebrations for the landmark anniversary are planned for next March.
"We'll combine the celebration of the past with the launch of our new generation of youth community-and economic-development programming," Downing said.
The council, which has grown to encompass a wide range of activities, may also become a little better known in the process.
"I think, in the past, it's been fairly low-key in trying to promote others into the limelight," Downing said. "We kind of birth new initiatives and try to strengthen the social infrastructure in the region by bringing people together and helping them to develop initiatives that respond to new challenges and trends."
The council, for example, had a hand in starting both Volunteer Victoria and Bridges for Women (the latter agency helps women from abusive backgrounds). Early on, the council helped to launch the local United Way organization.
"It's kind of a role that we played over the years," Downing said. "We also do research and planning for a variety of organizations - the United Way, the Victoria Foundation, non-profit groups, local governments in the region. The Vancouver Island Health Authority calls on us to work on issues that they need help with."
The council is contracted by the Victoria Foundation to analyse data for the annual Vital Signs Survey, and also puts out its own affordability-index report.
"Annually, we look at what the basket of basic good and services are and how the costs have risen - and what that means in terms of affordability challenges for people of average incomes."
Another important function is working to create new programs that fill regional needs, Downing said. "We're developing an initiative around affordable rental housing with a variety of stakeholders to try to increase the supply. We're also working on a big, new initiative around engaging youth in community economic development and social entrepreneurship."
That means giving young people in their early 20s - students, university graduates, the unemployed - an opportunity to look at starting businesses that also give back to the community with social and environmental benefits.
"We provide training and assistance with micro-loans for new enterprises," Downing said.
To that end, a partnership has been established with Community Micro Lending, a local group that makes small loans to those who do not qualify for other forms of credit.
"The kind of businesses that we've been looking at are things like community gardens for residents and tenants of non-profit housing," Downing said. "We're looking at co-operatives, as
well. Some young people are interested in developing co-operatives that can help with composting and things of that kind.
"We think there's quite a lot of potential. People are wanting to buy locally, whether it's goods or services."
Finding common ground for other agencies is another role the council plays, Downing said.
"What we find is there are lots of good agencies working in their own area or mandate, but what's really needed is our regional approach to bringing folks together to respond to social issues that don't stop in one municipality. For example, food security's a big issue at the moment with the increasing demands on soup kitchens and food banks, so we have actually pulled all the service providers together to look at how we can better co-ordinate emergency food provision. That's an example of where we try to avoid duplication and make the system more efficient."
Several other Canadian cities are served by similar agencies, including Edmonton, Winnipeg and Toronto.
"It's a model that has become common across Canada, and also in the United States," Downing said.
Like many non-profit groups, the Community Social Planning Council faces funding challenges.
"We're a charity, so we raise charitable donations and we get [support] from some foundations, and we sell our planning and research services," Downing said. "We don't currently have any provincial or federal government funding, but we do get grants from four of the core municipalities: Esquimalt, Victoria, Oak Bay and Saanich, and we get ongoing grants from the United Way."
The council has its hand in the upcoming municipal election. It is organizing an event today at 4 p.m. called City Halls & Families.
"We try and bring forward ideas and evidence of how we can do a better job of working together across municipal governments," Downing said. "This is an opportunity for our citizens and candidates to talk a bit about the family-related issues."
Host Gregor Craigie from CBC will lead a panel at the Metro Studio Theatre (1411 Quadra St.) that includes Downing, Charley Beresford of the Columbia Institute, Jennifer Charlesworth, from the Federation of Community Social Services, and Michael Prince, the University of Victoria's Lansdowne professor of social policy.
Call 250-727-9736 or email info@afsavictoria.ca for tickets ($20 for members of the Association of Family Serving Agencies and $25 for non-members).
jwbell@timescolonist.com
We thought you might also be interested in..