Occupy Victoria has until 4 p.m. Thursday to respond to city's eviction bid
Nov 10 2011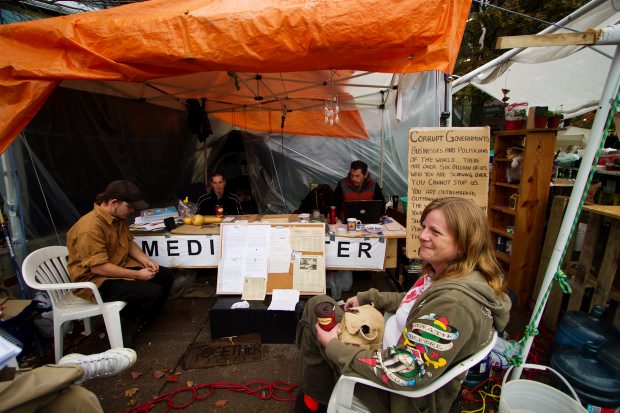 Occupy Victoria protesters including Jocelyn Samek, right, in Centennial Square in Victoria on Wednesday Nov. 9, 2011.
Photograph by:
Darren Stone, timescolonist.com
Occupy Victoria protesters have until 4 p.m. Thursday to file a response and evidence with B.C. Supreme Court and the city as to why they should be allowed to keep their tents and structures in Centennial Square.
Victoria bylaw officers served Occupy Victoria protesters Tuesday with copies of the city's petition for a court order to clear the square. The city's application will be heard by B.C. Supreme Court next Tuesday.
B.C. Premier Christy Clark said Wednesday Occupy protesters in Victoria and Vancouver do not have a point left to make and should leave quickly and peacefully.
"I think almost anyone would say it's time for them to go and they should go peacefully and they should go as soon as possible," Clark said from China, where she is on a trade mission.
Clark said she understood and sympathized with the protest's original message, to grow and benefit the middle class, but that "the people who were trying to make that point have left.
The international Occupy movement began on Oct. 15.
Clark said: "It's a small rump of people now and I don't think they have a point left to make and I think it's time for them to go. I'm really disappointed at the disrespectful violent behaviour we've seen from some of them."
A Victoria city worker was doused in urine Tuesday after an altercation with a protester who was camping up in a tree at Occupy Victoria. Lyle Barrette, who later left the camp voluntarily, faces assault charges.
Jocelyn Samek, who lives in downtown Victoria and supports the Occupy movement by day, said there has been a lot of fearmongering by police and media about the homeless and addicted contingent that police say make up the majority of people camping in the square.
"They have always lived here," Samek said. "The last time we saw them in any kind of public way was on Pandora Green when they were legislated off the [lawns] and back into the alleys and into the shadows.
"Occupy has given an opportunity to those people to come back out of the shadows and have that issue looked at."
People have begun to demonize the homeless for taking part in the movement, rather than showing them kindness, Samek said.
"My personal hope is that they will stay until some compassion is demonstrated for my homeless neighbours," Samek said.
Because the Occupy is a drug-free movement, those who use drugs or need assistance have been asked to camp on the other side of the square, near the trees, Samek said.
Robert Barron, an equipment operator, said maintaining a presence at the Occupy Victoria camp is important. The message that corporate influence on politics is corrupt and is squeezing out the middle and lower class must be heard, he said.
"The whole economy is going to hell," Barron said. "If we accept we are out of here, we're pretty much done."
Having said that, "if you close it down in Victoria it's irrelevant because there's hundreds of Occupies everywhere," Barron said.
B.C. Supreme Court Associate Chief Justice Anne MacKenzie on Wednesday granted Occupy Vancouver protesters an adjournment of Vancouver's application for an injunction to clear its tent city. The adjournment is reasonable to allow lawyers for Occupy Vancouver to prepare for the case, MacKenzie said.
In the interim, Occupy protesters in Vancouver must abide by the city's fire bylaw — for example, all fires must be put out by 7 p.m. tonight and all propane bottle and open-flame heating sources must be removed.
ceharnett@timescolonist.com
rshaw@timescolonist.com
We thought you might also be interested in..