Police seek suspect in Langford sexual assault
Nov 10 2011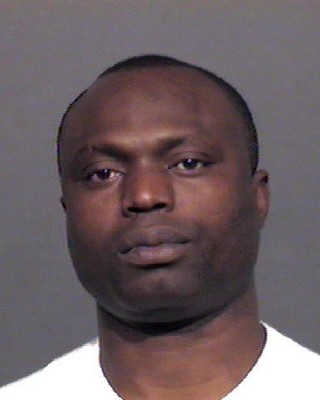 West Shore RCMP have issued an arrest warrant for Godstime Obelikpyha in connection with a Nov. 1, 2011, sexual assault in Langford.
Photograph by:
RCMP, timescolonist.com
West Shore RCMP are hunting for a suspect after a 22-year-old woman was sexually assaulted in Langford.
On the evening of Nov. 1, the Victoria woman asked for a ride home, but was taken from downtown Victoria to a residence in Langford, where she was sexually assaulted by two men, RCMP spokeswoman Cpl. Kathy Rochlitz said.
A warrant was issued last Saturday for Godstime Obelikpyha, 28, in relation to the sexual assault.
Another suspect, Solomon Akintoye, 28, has been arrested and charged with sexual assault. Rochlitz would not say where Akintoye was arrested or when.
He appeared in court Monday and was released on several conditions, including that he has no contact with the alleged victim or the co-accused, that he abides by a curfew of 10:30 p.m. and keeps the peace.
Obelikpyha, of no fixed address, remains at large. He is also charged with sexual assault in connection with an attack on a woman known to him in Coquitlam on April 3. There is an outstanding warrant for Obelikpyha under the Family Relations Act, the law that covers child custody, guardianship, spousal and child support. Police would not say to what the warrant relates.
Obelikpyha is described as black, five-foot-10, 175 pounds with black hair and brown eyes.
West Shore RCMP have not been able to explain why they waited nine days after the attack, and four days after an arrest warrant for Obelikpyha was issued, to publicize the information.
"We have to do due diligence to try and locate these individuals through the course of our investigation," Rochlitz said. "All the leads in trying to locate this individual have been exhausted at this time."
Rochlitz would not provide information such as where in downtown Victoria the victim was picked up and what time. She would not say what make of car the men were driving, where in Langford the attack was carried out or to whom the home belonged.
Rochlitz would not say when the victim reported the crime, whether it was from inside the home or if she escaped. She also would not say whether the attack was random or whether the public is at risk.
"I think, as always, I encourage the public to be aware of their surroundings, take their personal safety into consideration," Rochlitz said.
Rochlitz did not release details on what injuries the victim suffered and what treatment she received.
West Shore RCMP want anyone who knows the whereabouts of Obelikpyha to contact investigators at 250-474-2264 or Crimestoppers at 1-800-222-TIPS.
University of Victoria spokeswoman Patti Pitts said it had not been contacted by RCMP and there is no indication the alleged victim was a student there. Pitts said the university is typically contacted if the victim was in residence or there's an indication other students are at risk.
Victoria Women's Sexual Assault Centre could not say whether the attack was reported to it to protect the privacy of the victim.
Tracy Lubick, the centre's resource development manager, said: "If the police perceive there is an immediate threat to community members, they have the responsibly to issue an alert." Lubick would not comment on whether RCMP should have issued a public alert earlier in the case.
In March, a 20-year-old UVic student was lured into a car with four men and sexually assaulted for hours in what police believe was a random attack. Saanich police have not made any arrests and have no suspects in connection with the attack.
kderosa@timescolonist.com
We thought you might also be interested in..