Starbucks customers can use iPhone to pay for java
Nov 11 2011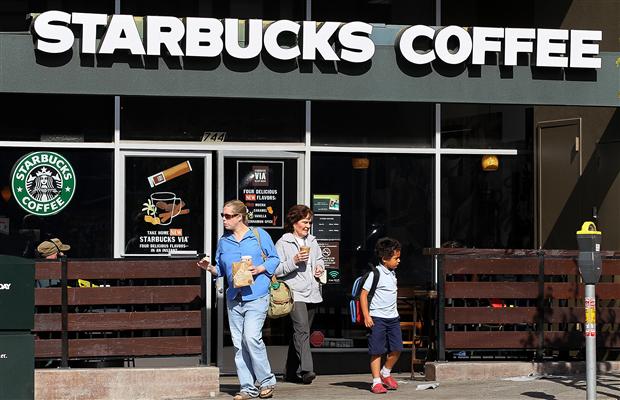 The world's largest coffee chain, which has made no secret of its ambitions to expand beyond its staple business, said Thursday it bought juice company Evolution Fresh for $30 million in cash.
Photograph by:
Justin Sullivan, Getty Images
Coffee lovers everywhere can breathe a little easier knowing that if they leave their cash or credit card at home, they can pay at Starbucks by flashing their iPhone at the cash register.
With the release of its Starbucks Canada app for the iPhone, the Seattlebased coffee giant joins the growing ranks of businesses that are letting customers leave their wallets at home and use smartphones to pay their bills.
The newly released app, free in Apple's app store, lets you pay for purchases by linking to a registered Starbucks card. It checks your card balance and lets you reload it with your credit card and has other features including finding the nearest Starbucks, checking your Starbucks rewards and even searching for a job at Starbucks.
The Canadian debut follows the launch of Starbucks' mobile payments in the U.S. earlier this year and is part of a trend of smartphones replacing cash and credit cards at cash register checkouts.
BMO Bank of Montreal recently announced that its customers would be able to use their mobile phones at checkouts to pay for their purchases using new mobile PayPass technology.
That technology uses a sticker that attaches to your mobile phone and can be read by a PayPass reader at the sales terminal. The purchase is processed on the customer's BMO MasterCard.
The BMO PayPass is different from the Starbucks apps because the technology isn't in the phone but on the sticker, which delivers the same kind of information that is contained in what BMO refers to as its "contactless payment" system - that is, PayPassenabled credit cards and devices that can be tapped at a cash register.
With the Starbucks app, you hold your phone up to scan in a bar code that appears at the cash register when you go to pay. The code automatically ensures the correct payment is taken off the registered Starbucks card that you have linked to the app.
The app also lets users top up their Starbucks card by punching their credit card information into the app for the amount they want to add to the card.
We thought you might also be interested in..