Council decides Monday on $80-million replacement for Oak Bay Lodge
Nov 11 2011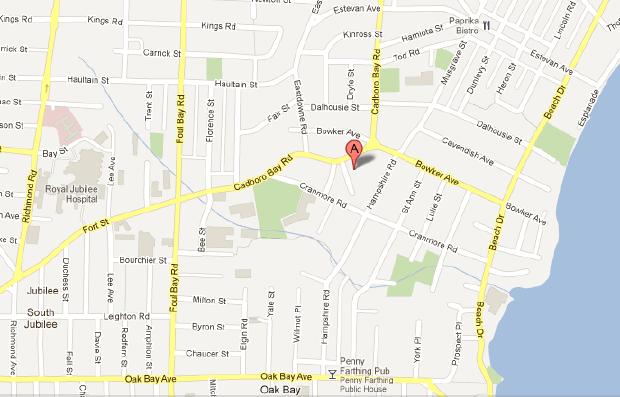 Map showing location of Oak Bay Lodge
Photograph by:
Google Maps, timescolonist.com
Monday is do-or-die time for an $80-million proposal to redevelop the Oak Bay Lodge site, says Mayor Christopher Causton.
Baptist Housing, in concert with the Vancouver Island Health Authority, wants to demolish the lodge at 2251 Cadboro Bay Rd., replacing it with a 320-bed, six-storey facility for Greater Victoria seniors with dementia who require complex care.
Causton said he would love to be able to recommend delaying a decision on the Garry Oaks Village proposal until after the Nov. 19 municipal election, but has been told that's not possible because the applicants have a financing deadline of Dec. 15.
"They've got funding standing by and they're afraid they're going to lose it. If they lost it because a decision can't be made, they'll look [at putting the lodge] somewhere else. That's the clear information I've been getting," Causton said.
Causton said Garry Oaks Village is the type of development the district has been trying to attract.
The proposed six-storey structure requires variances for height and for parking to proceed.
Neighbours have complained about inadequate consultation and the size of the redevelopment. Some have said that, while they support the concept of a care facility being rebuilt on the site, six storeys on a high point of land is simply too much.
The parking variance would reduce the number of parking spaces to 107 from the required 320 - about one for every three beds. The current Oak Bay Lodge lot has 68 parking spots.
The new facility, as presented, exceeds municipal height bylaws by 12.1 metres and is 5.4 metres higher than the existing Oak Bay Lodge.
"It's a tough call for the municipality because we have been promoting care facilities in this community," Causton said. "That's how we got Carlton House and that's how we got Marrion Gardens with Shannon Oaks. It's been highly successful and this is the last piece in the puzzle, the renewal of the Oak Bay Lodge, so that we have all of those facilities within one community."
bcleverley@timescolonist.com
We thought you might also be interested in..
Notice
: Undefined index: event in
/home/viccity/public_html/v2/content.php
on line
67