Giving back to veterans
Nov 11 2011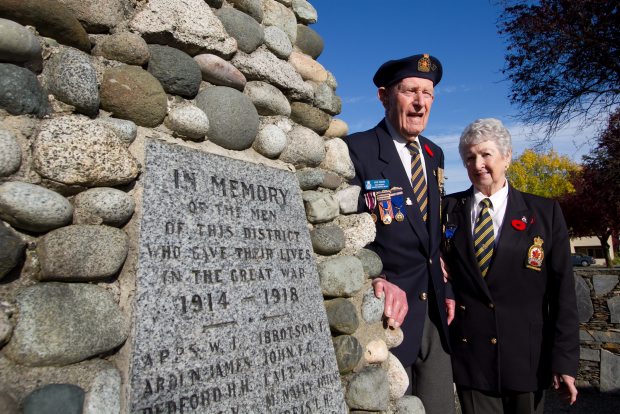 Veteran Jack Pedlow, 93, and Val Noyes, Saanich legion branch president, visit the cenotaph in Sidney.
Photograph by:
Darren Stone, timescolonist.com
Every Remembrance Day, Canadians thank those who made the ultimate sacrifice for our country in wars, conflicts and peacekeeping missions. But those who served and survived aren't forgotten.
Born in Northern Ireland in 1918, Jack Pedlow served with the Royal Air Force during the Second World War, stationed in the Mediterranean. He met his future wife, Vera, a Vancouver native, at a dance in Belfast and married her in 1949. They emigrated to Canada in 1960 and built a house for their young family in Sidney.
Even at the ripe old age of 93, Pedlow remains independent. He still lives in the house he built, still has his driver's license.
But, understandably, Pedlow isn't as spry as he used to be. And that's where Veteran's Affairs comes in. In the summer, he has his lawn mowed regularly. His house gets cleaned weekly.
"It's nice being a veteran in Canada," says Pedlow. "Veterans are well looked after."
One of those who unofficially looks out for veterans such as Pedlow is Valerie Noyes. She never served in the military, but her family makes up for it — her great-grandfather served in the First World War, her father and her husband both served in the Second World War.
She keeps an eye on Pedlow and the other elderly veterans who are members of the Saanich Peninsula Branch of the Royal Canadian Legion.
The branch also oversees money raised by the annual Poppy appeal, which collected more than $82,000 last year. The funds work year-round, providing services for veterans. There is usually money left over, which is put back into the community. The Legion used some funds to purchase beds for the Veterans' Health Centre at The Lodge at Broadmead. Some of the money also went toward sponsoring the local Saanich Peninsula Hospital.
"The response [to the Poppy campaign] is phenomenal and gratifying every year," says Noyes, who is the president of the Saanich Peninsula branch of the Legion. "I can tell you that the veterans recognize the public's generosity and are very grateful."
Apart from cash, people have donated needed items such as wheelchairs and scooters.
For Pedlow, the help allows him to remain in his home and keep his independence. He doesn't talk much of the friends he lost in the war and in the intervening years. Instead, he talks about his son and three grandchildren, and how grateful he is that his country still remembers him in his twilight years.
parrais@timescolonist.com
We thought you might also be interested in..