Museums, collections focus on military's history
Nov 11 2011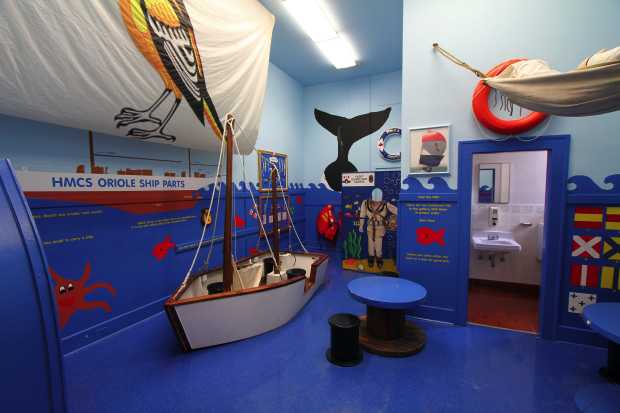 The CFB Esquimalt Naval and Military Museum.
Photograph by:
Bruce Stotesbury, timescolonist.com
Victoria, with its deep military heritage, counts three formal museums, a national historic site and a collection by a veterans organization, all open to the public.
Fort Rodd Hill and Fisgard Lighthouse National Historic Site
Fort Rodd Hill is a national historic site, an artillery fort built in the late 1890s to defend Victoria and the naval base in nearby Esquimalt harbour. The site features three gun batteries and its support facilities — including underground magazines, command posts, guard houses, barracks and searchlight emplacements. It was active until 1956.
Address: 603 Fort Rodd Hill Rd.
Telephone: 250-478-5849
Web: www.fortroddhill.com
Hours: 9 a.m. to 4:30 p.m. Nov. 1 to Feb. 14 (except Christmas Day)
Admission: $3.90 adult, $3.40 senior, $1.90 youth and $9.80 family
Lt. General Ashton
Armoury Museum
This is a historical, chronological museum. Its collection includes medals, memorabilia, weapons, photographs and documents on military history and technology. It also devotes some of its space to recognize those who support the front-line troops. There are guided tours in English.
The armoury is garrison to the 11 (Victoria) Service Battalion, the 11 (Victoria) Field Ambulance and No. 3005, Royal Canadian Army Cadet Corps 11 (Victoria) Service Battalion. Facilities are wheelchair accessible.
Address: 724 Vanalman Ave., Victoria
Telephone: 250-363-8346
Hours of operation: 9 a.m. to noon Tuesday, Thursday and Saturday. Other times by special request.
Admission: Free
CFB Esquimalt Naval and Military Museum
The museum exhibits focus on four military groups:
• Canada's Navy on the West Coast
• The Canadian Women's Army Corps (CWAC)
• Women's Royal Canadian Naval Service (WRCNS)
• The West Coast Defenses
The museum has gone from two metal cupboards in the base library in 1977 to its current location in two heritage buildings at CFB Esquimalt.
Address: Buildings 37 and 39, CFB Esquimalt, 1299 Naden Way, Victoria
Telephone: 250-363-4312
Web: www.navalandmilitary
museum.org
Museum hours: 10 a.m. to 3:30 p.m. Monday to Friday, except statutory holidays
Admission: Suggested donation $2 for adults, $1 for seniors and students, $5 families. Guided tours $75 or $50 for seniors groups
Canadian Scottish Regiment (Princess Mary's) Regimental Museum
The museum was opened by the Regiment's colonel-in-chief, Princess Alexandra, in May 1980. It is a non-profit organization operated by volunteers. Collection includes material from the earliest days of the regiment. Special displays include a collection of Victoria Crosses won by members of the 16th Battalion (the Canadian Scottish) during the First World War. The museum has a large collection of Lee-variant rifles — possibly one of the most unique firearm collections in Canada.
Address: Bay Street Armoury, 715 Bay St., Victoria
Telephone: 250-363-8753
Web: www.islandnet.com/~csrmuse/
Hours of operation: 9 a.m. to 2 p.m. Tuesdays
Admission: Free
Army, Navy and Air Force Veterans in Canada - Sidney Unit No. 302
Visitors to this collection will know they reached the right place by the static displays of an F-86 Sabre jet aircraft from the Korean conflict and Second World War Sherman tank in the parking lot. The collection includes memorabilia, patches, crests and other military objects displayed on the walls of the public rooms. Because liquor is served on the premises, entry is restricted to those 19 and older. Special tours are possible for younger visitors outside of the establishment's regular hours.
Address: 9831 Fourth St., Sidney
Telephone: 250-656-2051
Admission: Free
Hours of operation: 11 a.m. to 11 p.m. Tuesday to Saturday, 11 a.m. to 9 p.m. Sunday and Monday
Web: www.unit302.ca
We thought you might also be interested in..