Window provides lasting tribute to Oak Bay pilot who died for freedom
Nov 11 2011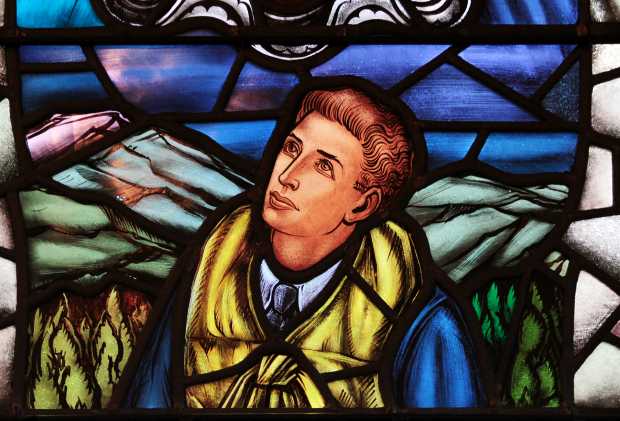 The image of Pilot Officer George Henry Corbett, 20, wearing the uniform of the Royal Air Force, is reproduced in one of the stained-glass windows of the Church of St. Mary the Virgin, the Anglican Church on Elgin Road in Oak Bay.
Photograph by:
Lyle Stafford, timescolonist.com
War remembrance is permanent at an Oak Bay church, where the face and name of a home-grown pilot, killed in action, is captured in stained glass.
The image of Pilot Officer George Henry Corbett, 20, wearing the uniform of the Royal Air Force, is reproduced in one of the stained-glass windows of the Church of St. Mary the Virgin, the Anglican Church on Elgin Road.
Corbett, shown in a life preserver, flight boots and clutching a flying helmet and earphones, looks upward in an image illustrating the Ascension, when the Bible says Jesus Christ rose to heaven following his Crucifixion.
In St. Mary's extensive gallery of stained-glass windows depicting saints and biblical scenes, Corbett's image is the most modern. It is the only window in the church to depict a member of the community.
Rev. John Macquarrie, rector of St. Mary's, said images of the Second World War and other conflicts can be regularly found in churches. But, for him, Corbett's picture is an ever-present personal reminder, made especially poignant at times like Nov. 11.
Macquarrie is a former Canadian naval commander. He has a son serving on HMCS Vancouver. And so Corbett's picture offers hope.
"What it says is that George [Corbett] and all those who die in Christ, or even just die, that is all of us, as human beings, can ascend into heaven," said Macquarrie.
Few personal details about Corbett are known. Those who knew him, including his parents and sister, have all died.
Malcolm Cooley, 51, son of Phyllis Cooley, Corbett's sister, said his mother talked little of his Uncle George, other than the circumstances of his death.
"He was so young when he died and I think she didn't have as many memories as she would have liked," Cooley said of his mother.
But, according to research by Cooley's wife, Shai Thompson, George Henry Corbett was born in 1919, son of Mabel and Henry, and grew up at 2661 Estevan Ave. He was interested in flying as a boy, building model aircraft. During a family holiday in England in his teens, Corbett applied to, and was accepted by, the de Havilland Aircraft Company's technical school.
Corbett learned to fly with the Royal Air Force Volunteer Reserve. He returned to Victoria in 1939 but was recalled to England and active duty when war was declared. He shot down at least one German aircraft, and was shot down himself, forcing him to use his parachute.
On Oct. 8, 1940, Corbett took off in his Spitfire and united with other aircraft to patrol off Kent. They were attacked near Herne Bay and Corbett's aircraft crashed in a marsh near the village of Upchurch.
A vicar, Rev. W. J. Wright, made his way to the crash site and later sent a letter to Victoria's Rev. Harold E. Sexton, then Anglican bishop of B.C., to say Corbett's body was removed from the wreck riddled with bullets, and death had been instant.
The English churchman wrote that he offered prayers and gave a blessing beside the downed Spitfire.
"The pilot's body was then covered — his parachute being his shroud," Wright wrote.
Corbett's watch was found nearby and sent home to Oak Bay. It had been a 21st birthday present sent by his parents which he had opened early. He was still only 20 when he was killed.
Corbett was buried following a service by the local parish of Upchurch attended by members of the RAF and other service organizations.
He died three weeks after Adolf Hitler called off plans to invade Britain, when the Battle of Britain is said to have ended, although air raids continued.
The battle for air superiority over southern England and the English Channel is recognized by military historians as a turning point in the war. Without air superiority, the Germans could not hold off the ships of Britain's Royal Navy, so the Nazis had no chance of successfully mounting an invasion by sea.
A few days after receiving notice of his death, Mabel Corbett received a letter written by her son in the weeks prior. He described two early mishaps, including his escape by parachute, and revealed a personal insight into the importance of the battle he was fighting.
"Having got out OK, my confidence has been tremendously increased and I want you to be confident also," he wrote to his mother.
"We're seeing plenty of action here every day and I'll be back in the fight tomorrow. The Jerries [Germans] are a long way from getting supremacy in the air, and until they get it, which they won't, there'll be no invasion."
Years later, Phyllis Cooley, herself a war veteran, visited her brother's grave in England and planted a Canadian maple.
A frequent correspondence was kept up between Phyllis and various people in England. When aviation archeologists removed the prop and engine of Corbett's plane for restoration, she was invited to the aircraft museum doing the work.
After Corbett's death, his family commissioned the church window. It became Phyllis's altar of remembrance, where, once a year, she would place a bouquet of roses.
When she became too old to complete the task, a parishioner at St. Mary's took over. Now, every year, on the Sunday closest to Battle of Britain Day, Sept. 15, or on Remembrance Day, a single rose appears underneath Corbett's window.
Corbett's memory was also kept alive and passed on by Phyllis, even as her mind faded with Alzheimer's disease before her death on Feb. 1 this year.
In caring for Phyllis, Thompson said she would break out a box of old photos, including those of Corbett, to show them and spark some memories.
"As soon as she saw his picture she came to life," said Thompson. "And she shifted, she would go from being sad and morose and without hope, and would come alive as she remembered.
"[Corbett's] was the story she told the most."
rwatts@timescolonist.com
We thought you might also be interested in..
Notice
: Undefined index: event in
/home/viccity/public_html/v2/content.php
on line
67