Occupy Victoria protesters sit tight, mull next move
Nov 11 2011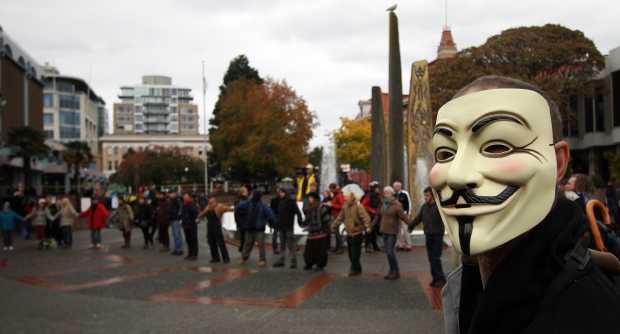 A man at the Occupy Victoria camp at Centennial Square in Victoria on Nov. 7, 2011.
Photograph by:
Adrian Lam, timescolonist.com
Occupy Victoria protesters say they are staying put as they consider how they'll respond to the City of Victoria's legal efforts to have them removed from Centennial Square.
The city filed notice this week that it will apply for a court injunction next week, and requested a response from protesters by 4 p.m. on Thursday. But no response was filed.
Arguments from the city on why the protesters should be evicted are to be presented in B.C. Supreme Court on Tuesday. Tents have been pitched at Centennial Square since the worldwide Occupy protest began Oct. 15.
The city is saying the square needs to be cleared for upcoming holiday events. It is also concerned about public safety and damage to the square.
"We've been watching Vancouver's court battle quite closely and we're currently working on getting legal representation as well as coming up with an appropriate reply to the injunction [the city] will apply for on Tuesday," said Anushka Nagji, one of the protesters.
The protesters feel the 36 hours they were given to respond to the city's injunction application wasn't appropriate or reasonable notice, Nagji said. If the protesters find a lawyer, they will likely ask for an adjournment so they can craft an appropriate legal response, she said.
Centennial Square appeared cleaner and more orderly Thursday than it had in previous days. The cooking area had been moved from a covered spot near Pandora Avenue to the north side of the square.
The area designated for a skating rink has been cleared of tents, "just so the city can't use that as an excuse as to why we can't stay out here in Centennial Square," Nagji said.
Colwood resident Geoff Crystal said the protest has changed and he no longer supports it. "I feel it's just been hijacked by people who are using it for their own means," Crystal said.
"It's gone from a protest [against] greed and corruption and general maladies of society to 'Hey, look at us — we're a bunch of homeless people who want a place to stay,' " Crystal said.
"I don't even know what they want."
In an affidavit filed by the city, Victoria police Const. Mike Massine said he identified three groups among the campers in the square: the Occupy Victoria supporters, street people and hangers-on.
"Many tents are unoccupied or are only occupied at certain parts of the day," Massine said. "In particular, I have observed that many of the demonstrators are not present in the square overnight."
The majority of the people who attend regular assemblies on Tuesday and Thursday evenings and Sunday afternoon are not present in the square at other times and don't seem to be part of the encampment, Massine said.
smcculloch@timescolonist.com
We thought you might also be interested in..