Heart-valve procedure hands life back to Saanich veteran, 91
Nov 12 2011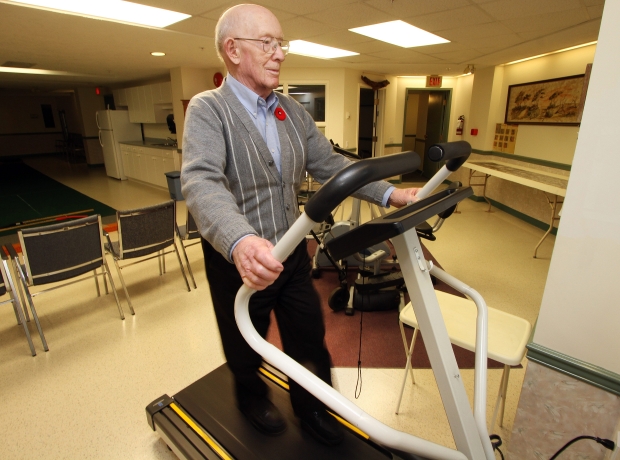 Hugh Miller exercises on a treadmill at his home in Saanich on Nov. 8, 2011
Photograph by:
Adrian Lam, timescolonist.com
A Second World War veteran was able to honour fallen comrades Friday thanks to a non-invasive heart-valve replacement procedure that will soon be coming to Victoria.
"It's a salvation for seniors," said Hugh Miller, 91.
Miller, who lives off Shelbourne Street in Saanich, served in the Canadian military for 35 years.
He exercised daily until earlier this year when he became winded just walking down the street.
It worsened, and one morning he awoke unable to breathe or swallow. A small leak in his aortic valve had become a big one, he said. Open-heart surgery was needed but he likely wouldn't survive it, or, if he survived, he'd probably wish he hadn't, one doctor told him.
His cardiologist recommended a non-invasive procedure developed by doctors in Vancouver - a procedure in which cardiologists insert a catheter through an artery just above the leg and thread an artificial valve up through to the heart.
The procedure is done to treat stenosis, which involves a narrowing or leakage in an aortic valve.
Dr. John Webb, 57, and his colleagues at St. Paul's Hospital in Vancouver developed the first routinely successful percutaneous valve replacement in 2005. More than 10 Canadian hospitals now perform the procedure and 75 patients from Vancouver Island have received it.
Webb has taught the procedure to cardiologists around the world - first physically criss-crossing the globe and then via a virtual teaching laboratory at St. Paul's. His team plans to open a program in Victoria in the new year.
Webb explained how the heart valve opens and closes like a door once every second. "After decades of doing this, it becomes thickened and scarred and calcified, and stops just like a door that won't open all the way," Webb said. When that happens, the valve is worn out and the heart has to pump blood against a very tight hole. Patients become weak and frail, and die within a year or two of showing symptoms, Webb said.
"When I went in, I was at the end of my tether," Miller said. "I was dying."
Miller had the two-hour surgery at St. Paul's on Aug. 29 and was released days later. "The technology involved is mind-shattering," Miller said. "Your heart never stops."
The procedure can even take place while a patient is awake, said Webb.
Previously, there was no other option for cardiac patients who needed a replacement valve but would not survive openheart surgery - the more proven procedure to date.
"We first proved that we could perform this surgery on patients who couldn't have surgery," Webb said. "Then we proved it's better than open-heart surgery in many high-risk patients."
The procedure, while it carries risks, is becoming routine, Webb said. Within five to 10 years, he predicts it will be the standard of care for people requiring aortic valve replacement. "We have to wait for a little more evidence, but I think that's the way it's going," Webb said.
Immediately after the procedure, Miller felt the increased blood flow through his body, and his brain, he quipped. He soon returned to daily exercise and long walks with his wife, Pat, 91.
Miller lives in a condominium with his wife of 68 years. They met while he was in the air force.
"I'm sure everyone, when they have life handed back to them, appreciates it - maybe even more as you get older," said Miller.
ceharnett@timescolonist.com
We thought you might also be interested in..