Jack Purdy's property empire listed for court
Nov 13 2011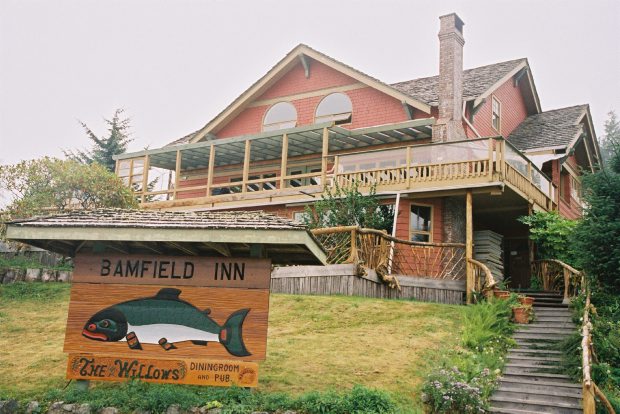 The Bamfield Inn is one of the properties owned by Jack Purdy in the tiny community that is currently closed.
Photograph by:
Darren Stone, timescolonist.com
Dotted around the picturesque community of Bamfield, on Vancouver Island's west coast, are the dilapidated or derelict properties belonging to Jack Purdy.
High-profile buildings, such as the Bamfield Inn, are shuttered and even the Purdy-owned airstrip is closed.
But now, assessments of dozens of those Bamfield and Port Alberni properties are listed in submissions to an Alberta court as proof that owner Purdy is not bankrupt.
A personal bankruptcy petition against Purdy is due to be heard in Edmonton Dec. 2.
Purdy started buying properties in Bamfield, a tiny community, about 13 years ago. But almost all the businesses remain closed and buildings have fallen into disrepair, damaging the community's economy.
Purdy has refused to sell individual Bamfield properties, and some residents are hoping court action will force him to put properties on the market.
"It's just so strange. We don't have a clue what he is doing," said John Mass of Broken Island Adventures, who previously offered to buy the historic Bamfield Inn. "He hasn't tried to run any of them as actual businesses."
There are similar complaints from other locations where Purdy has real estate interests, including Anguilla in the Caribbean, where a beachfront property touted as the site of a luxury hotel has become an eyesore.
The cliff, where promotional literature envisages "Jack's Bar," partially collapses every time there's a hurricane, said a puzzled Anguilla resident.
"The places he has in Anguilla are derelict," said the person, who asked not to be named.
Those behind the bankruptcy petition say they are owed relatively small amounts of money — a total of about $17,000 split among four creditors.
Major creditors such as Canada Revenue Agency and Axcess Mortgage
Fund of Calgary, which
says Purdy owes it $8 million, have not joined the petition.
"Some of [the creditors] feel that the bankruptcy would serve very little purpose and Mr. Purdy should be allowed to sell off some of his properties," said Axcess lawyer Andrew Maciag.
"I believe he recognizes that, unless he finds another source of funds, he is going to have to liquidate some assets."
Conan Taylor, Purdy's lawyer, said the reluctance of major creditors to sign on to the bankruptcy petition is telling.
"Presumably, they believe, like I believe, that Mr. Purdy is not, in effect, bankrupt, and if the court can be satisfied that a debtor is able to pay his debts, the petition will be dismissed," Taylor said.
Taylor said he is aware of complaints about the state of some properties, but said Purdy is doing the best he can in a tough economy.
"It's not easy being a developer now, and credit is tough to come by," Taylor said.
"He has great vision in terms of what he wants, but he has been caught in a liquidity crunch in the last number of years.
"It's fantastic he's been able to hang on to these properties."
Purdy still has "good intentions and dreams" of developing Bamfield into a "very special place," Taylor said.
The primary creditor driving the bankruptcy petition is Alberta businessman Orest Rusnak, and
Taylor questions why Rusnak is "trying to stir things up" for a relatively small debt.
Purdy and Rusnak both have been before the courts before.
Purdy was acquitted of three money-laundering charges in the U.S. in 2003 following a joint FBI-RCMP sting operation that involved money purported to be proceeds of Colombian drug trafficking.
Rusnak is a disbarred lawyer who was sentenced to three years in prison on a fraud conviction in the 1990s. In 2007, Rusnak was sentenced to 12 months in jail for breaching a trading ban.
jlavoie@timescolonist.com
We thought you might also be interested in..