Occupy Victoria protesters plan to mount legal challenge to eviction
Nov 13 2011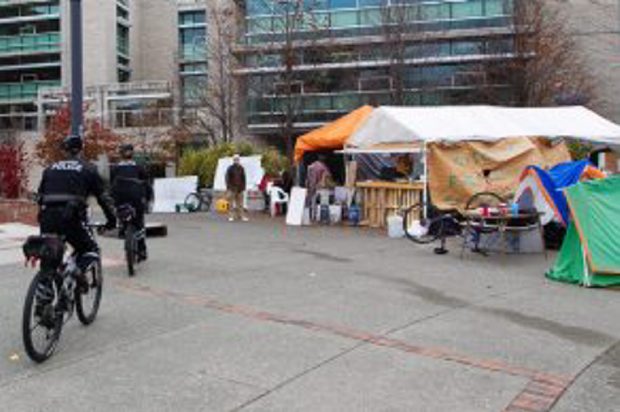 Police ride through the Occupy Victoria protest site in Centennial Square last week.
Photograph by:
Darren Stone, timescolonist.com
Occupy Victoria protesters say they plan to challenge the city's attempt to legally remove their encampment from Centennial Square.
The city's arguments for obtaining a court injunction will be presented in B.C. Supreme Court on Tuesday, but protesters say they will likely ask for an adjournment of the proceedings until they have time to prepare their legal argument.
Victoria Mayor Dean Fortin has said the city wants the square cleared for upcoming holiday events and he has concerns about public safety. The protest received scrutiny last week after one protester perched in a tree allegedly dumped urine on a city worker.
Some observers say the majority of people in the encampment are not part of the protest. But despite that assessment, occupiers say their message and support remains strong.
"I wouldn't say there is any count that confirms there are more non-protesters than non-protesters," said Anushka Nagji, a University of Victoria student in her final year of law school. "I think that's a really neat and sneaky way to frame the movement itself in order to give it less credence. The physical encampment is only one small part of the movement."
Nagji has contacted several lawyers about the city's attempt to remove the tents and shelters. She and other protesters will consider several options so that the movement can continue as long as it needs to.
They have discussed scaling back the size of the encampment to work with the city as it prepares for holiday events. Campers have already made a peaceful gesture by moving more than a dozen tents from the back of the McPherson Playhouse to make way for a skating rink.
Nagji said the protesters have also considered moving the camp entirely should the city obtain its injunction.
"We are constantly meeting and constantly discussing our next steps," said Nagji.
Fortin said there are significant public safety concerns about illegal drug use and other criminal activity within the encampment. Police have responded to more than 65 calls to the square since protesters set up there on Oct. 15.
Even occupiers talk about an unwanted crowd that are not part of the worldwide movement that has brought attention to social and economic inequalities. Protesters have been cleaning up the square as well, but they say the wrong message is going out to the public when news media cover events like the alleged urine incident.
dspalding@timescolonist.com
We thought you might also be interested in..