Oak Bay Lodge redevelopment decision delayed
Nov 15 2011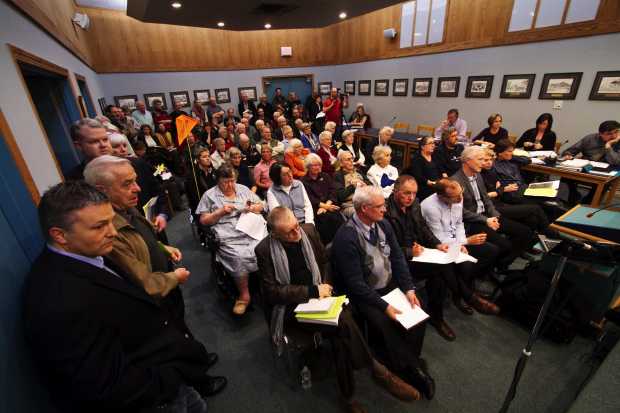 Residents fill the Oak Bay council chambers as council delays the decision on the future of the Oak Bay Lodge on Nov. 14, 2011.
Photograph by:
Darren Stone, timescolonist.com
It will be a lame-duck Oak Bay council that will decide next week whether to allow an $80-million proposal to redevelop the Oak Bay Lodge site.
The meeting will be held next Monday by a council in a type of electoral netherworld. It will be after Saturday's municipal election but before the new council is sworn in Dec. 5.
Baptist Housing, in concert with the Vancouver Island Health Authority, wants to demolish the lodge, replacing it with Garry Oaks Village, a 320-bed, six-storey facility at 2251 Cadboro Bay Rd. for Greater Victoria seniors with dementia who require complex care.
But in order to do so, the developer needs variances from Oak Bay to allow a two-storey increase in height (that would permit six storeys) and a reduction of required parking to 107 from 320.
Councillors agreed last night they had to move the meeting to a larger hall after more than 200 people tried to cram into Oak Bay's tiny council chambers — spilling into the outer lobby area. Even though there was a speaker feed, many complained they couldn't hear.
With the audio system failing, councillors then agreed that the only fair thing to do would be to reschedule the meeting in the larger Monterey Recreation Centre.
Coun. Nils Jensen argued that the application shouldn't be considered until the newly elected council has had an opportunity to study all the information — perhaps after the municipality has acquired the expertise of a planner to examine this project.
"My view is a new council would well benefit by hiring a planner — an expert in our corner, so to speak — that can give us the proper advice in respect to all the issues that have been raised by the community."
But Baptist Housing CEO Howard Johnson, under questioning by Mayor Christopher Causton, said any delay much longer than a week could put the project at risk.
Johnson said financing for the project was arranged in early 2009, and the lender has indicated that it will be unable to hold the funds and meet the current terms after Dec. 31. If a decision is made next week, the deadline could still be met, he said.
VIHA CEO Howard Waldner told the meeting that to suggest the application was somehow rushed is "somewhat surprising". He said it first came to council on May 24.
"If this matter is not resolved soon, our board may have to consider taking our project to another location," Waldner said.
Tara Ney agreed with Jensen, saying the decision felt rushed and she hadn't had time to study the material.
"It's a massive project. It's highly unusual that a project of this scope moves through so quickly," she said, adding that council didn't get its first look at the application until September. "I would like to see it put off to a new mayor and council, not just to next week," Ney said.
Causton and councillors John Herbert and Hazel Braithwaite voted to table the item until next week. Coun. Pam Copely recused herself from the discussions because of a potential conflict.
Causton said the application "in some form or another" has been before council for some two years.
"I think the decision to defer it over for one week is, frankly, the best decision," Causton said.
He admitted that having the decision made by the old council, with the new one waiting in the wings, "is really tough."
There will be at least three new faces on Oak Bay's council following Saturday's vote. Causton is retiring and both Jensen and Braithwaite are running for his job. Former councillor Allan Cassidy is deceased.
Neighbours have complained about inadequate consultation and the size of the Oak Bay Lodge redevelopment. Some have said that while they support the concept of a care facility being rebuilt on the site, six storeys on a high point of land is simply too much.
The new facility, as presented, exceeds municipal height bylaws by 12.1 metres and would be 5.4 metres higher than the existing Oak Bay Lodge.
bcleverley@timescolonist.com
We thought you might also be interested in..