Victoria police foresee regional force by 2020
Nov 15 2011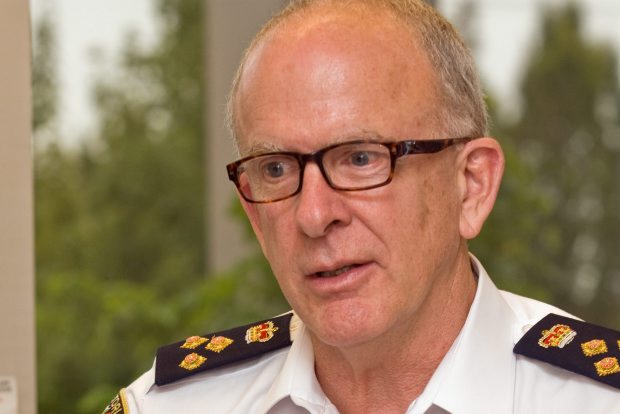 Chief Jamie Graham: "The solution for the future."
Photograph by:
Darren Stone, timescolonist.com
Victoria police have released their eight-year strategic plan and one of the main goals is having a regional force by 2020, an issue that has dominated the policing debate for decades.
"We think the solution for the future is a regional structure from the ferry terminals to Oak Bay, halfway up the Malahat," said police Chief Jamie Graham after releasing the strategic plan Monday afternoon.
The department's "five bold steps" are presented on its website a flashy, minute-and-a-half video that resembles a movie trailer, with fast-cut images of police on the street, dramatic music and text in capital letters.
The five bold steps are: Enhance effectiveness, with a focus on using intelligence and crime analysis to prevent crime; develop the best, which envisions an improved training and leadership program; improve communication within the department; regionalize safety; build relationships with other police partners as well as the Vancouver Island Health Authority and social-service agencies.
Graham said the aim is to make Greater Victoria the safest region in the country. The bold steps were developed by a working group of officers and civilian staff who talked to Victoria residents, business owners and social groups.
Victoria residents are increasingly concerned about footing the bill for policing in the downtown core when it is frequented by residents from across the capital region, Graham said.
There are seven police departments in Greater Victoria, which has a population of 350,000. They work together through specialized integrated units that include homicide, traffic, prolific offenders, domestic violence, crowd management, a tactical team, a dive team and a unit dealing with youth at risk.
The Victoria department participates in all except for the Regional Crime Unit, which focuses on prolific offenders. It pulled out in October 2009 amid disputes about the funding formula.
Saanich police are not involved in the Vancouver Island Integrated Major Crime Unit, a decision that has sparked criticism amid the force's inability to solve the murder of 24-year-old Lindsay Buziak in 2008.
Such critics as former solicitor general Kash Heed have called the integrated approach a Band-Aid solution that hinders police in catching criminals who do not respect municipal boundaries.
Victoria police were scant on details as to how a regional force can be achieved when all the other police departments and mayors outside of Victoria oppose one. Premier Christy Clark has ruled out forcing the implementation of a regional police force in Greater Victoria.
"We're going to do whatever we can to make sure we are pressuring government or taking those steps that will let us see that amalgamated force in 2020," police spokesman Const. Mike Russell said.
The department's attempt to take over policing for a neighbouring municipality has so far failed, with Esquimalt wanting out of the amalgamation imposed in 2003 and asking to be policed by the RCMP. Solicitor General Shirley Bond has appointed a mediator to talk to both sides and complete a report by January.
The video was produced by the Media One multimedia company and was shot during a ride-along with police, Russell said. Victoria police also printed 500 brochures to distribute to the public, spending a total of $6,500.
kderosa@timescolonist.com
We thought you might also be interested in..