Occupy Victoria camp smaller
Nov 15 2011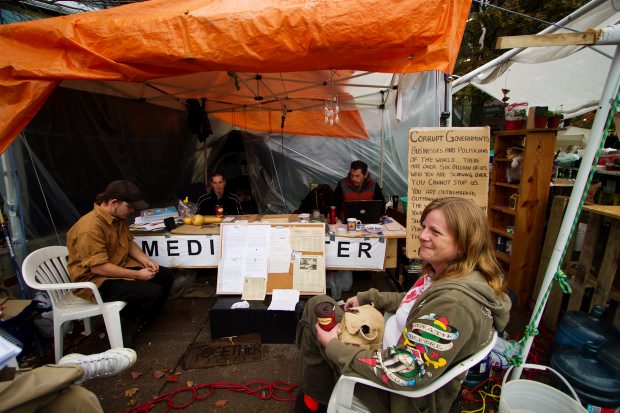 Occupy Victoria protesters including Jocelyn Samek, right, in Centennial Square in Victoria on Wednesday Nov. 9, 2011.
Photograph by:
Darren Stone, timescolonist.com
Numbers were down at the Occupy Victoria camp in Centennial Square Monday on the eve of the city's attempt to obtain an injunction to remove the remaining protesters.
Campers started coming to the area around Victoria City Hall on Oct. 15, with about 50 tents in place at the protest's peak. It was among similar camps set up around the world to emphasize social and economic issues.
By Monday afternoon, attrition, weather and other factors had reduced the number of tents to about 20, and activity was confined to a handful of people sitting beneath city hall's overhang on the south side of the square along Pandora Avenue.
A lawyer will represent the protesters today and ask for an adjournment so campers can have time time to prepare a legal argument. Anushka Nagji, a University of Victoria law student who is part of the protest group, said fellow protesters think the 36 hours protesters had to respond to the application for an injunction was inadequate.
Lawyer Tom Zworski will present the city's case today in B.C. Supreme Court. He likely will take more than two hours to put the city's stance forward. But if an adjournment is granted, today's session could be over quickly.
Should things move forward, a ruling could come as early as Wednesday. If the injunction is granted, those in the square will be given notice before any eviction enforcement takes place.
"We'll wait and see what comes out of the legal process," said Jesse Bernier, part of the group spending the afternoon under the shelter of the overhang.
Meanwhile, a website called unoccupyvictoria.ca has appeared, complete with a petition for anyone against the continuing Centennial Square protest. The anonymously created site says it was formed "to show support for the police, firemen and city workers in their efforts to remove illegal squatters that have taken up residence in Centennial Square."
By Monday evening, more than 230 people had signed the online petition.
jwbell@timescolonist.com
We thought you might also be interested in..