Sisters of slain wife seek proceeds from sale of murder-suicide house
Nov 15 2011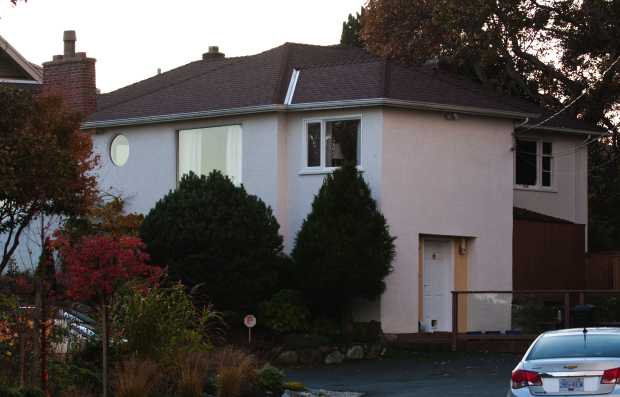 This home on King George Terrace, where five died, was listed for $1.019 million and sold for $970,000 in 2008.
Photograph by:
Darren Stone, timescolonist.com
The proceeds from the sale of the Oak Bay home in which Peter Lee stabbed to death his family and himself are being sought in court by his wife's remaining family.
About 3 a.m. on Sept. 4, 2007, Lee broke into the five-bedroom King George Terrace home through a basement window.
He stabbed his father-in-law Moon Kyu Park, 66, mother-in-law Chun Kum Lea, 59, six-year-old son Christian and estranged wife, Sunny Park, 32, before killing himself.
In what was described by experts as a frenzied, emotional attack, Lee stabbed and slashed his wife 49 times, including 27 strikes to the heart.
The only survivors in Park's family are her sisters — whose English names are Jane and Jean Park.
They are referred to in court documents as beneficiaries of Park's and their parents' estates.
The sisters filed a notice of civil claim in B.C. Supreme Court Nov. 4 against Lee's estate, asking the court to award the sisters "the proceeds of sale" — $369,304 — from the deceased couple's home.
The house was listed for $1.019 million and sold for $970,000 on March 3, 2008.
"The estate of Peter Lee would be unjustly enriched, at the expense of the estates of Park's parents, if allowed to obtain a portion of the funds that resulted from the sale of King George Terrace without accounting for the financial contribution of Park's parents," say court documents filed by the sisters' lawyer, Val Hemminger.
The Lee estate has been served with the court documents.
According to the civil claim, Lee and Park began dating in October 2000. Park gave birth to Christian on Aug. 6, 2001. (The two married in November 2004).
The couple first bought a home on Irving Street in Victoria. In February 2007, they sold it and bought their 310 King George Terrace home.
The sisters contend in the suit that Park's parents "invested funds to complete the purchase and down payment of King George Terrace."
The claim goes on to say the land title, originally jointly registered to Lee and Park, was transferred solely to Park about June 6, 2007.
On July 31, 2007, Lee rammed his Land Rover into a utility pole, causing his wife multiple injuries in the crash — including a broken arm.
Lee was initially arrested for attempted murder, which was downgraded to charges of causing bodily harm.
In August 2007, Lee was prohibited by the court from communicating directly or indirectly with his wife, from attending their King George Terrace home, or from possessing knives or firearms.
"Sunny Park's beneficiaries wish to obtain the funds from their parents' investment in King George Terrace on behalf of the estate of Sunny Park," the claim says.
"Or in the alternative," it continues, "Sunny Park's beneficiaries would like to receive the balance of the funds from the sale of King George Terrace on behalf of the estates of Park's parents."
ceharnett@timescolonist.com
We thought you might also be interested in..