New $100 bill weds high tech, history
Nov 15 2011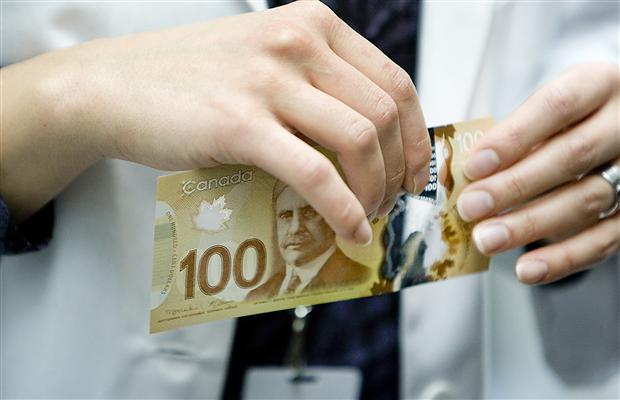 Mark Carney, Governor of the Bank of Canada, introduces the new Canadian $100 bill at Toronto's MaRS building, Monday November 14, 2011.
Photograph by:
Peter J. Thompson, National Post
The Bank of Canada released the country's first polymer $100 bank note Monday, a redesign that incorporates new features to combat counterfeiting.
"They will be more secure, more durable, they will be better for the environment and they are very innovative as well," said Isabelle Jacques, senior analyst for the Bank of Canada's regional office for B.C. and the Yukon.
Each note is made of a single sheet of polymer, a plastic-like material.
Security features include holographic elements and a metallic strip running through a transparent window.
"They are as easy to verify, but harder to conterfeit," Jacques said.
The notes, which are recyclable, are more durable than the existing cotton-based notes, which means they will not have to be replaced as often, she said.
A portrait of former prime minister Sir Robert Borden is on one side; on the other is a celebration of Canada's scientific innovations, such as the 1923 insulin breakthrough by University of Toronto researchers Frederick Banting and Charles Best.
Bank of Canada governor Mark Carney released the new note in Toronto on Monday to draw attention to World Diabetes Day and to coincide with the 120th anniversary of Banting's birth in Alliston, Ont., on Nov. 14, 1891.
A polymer version of the $50 bill is expected in March 2012 followed by a $20 note in late 2012. The $10 and $5 polymer versions are expected by the end of 2013.
The redesigned $50 bill, which will continue to show Second World War-era prime minister Mackenzie King on the front. The back will feature an image of the Canadian Coast Guard Ship Amundsen, an Arctic-capable scientific research vessel.
The $20 bill will feature a new portrait of Queen Elizabeth on the front and an obverse image of the Vimy Memorial in France, commemorating Canada's military heritage.
The $10 bill will have Canada's first prime minister, Sir John A. Macdonald, on the front and an illustration celebrating Canada's railway heritage on the back.
And the $5 bill will retain the portrait of Sir Wilfrid Laurier while celebrating two Canadian innovations in aerospace technology — Canadarm2 and Dextre.
asmart@timescolonist.com
We thought you might also be interested in..