Right-to-camp protester may die: mom
Nov 16 2011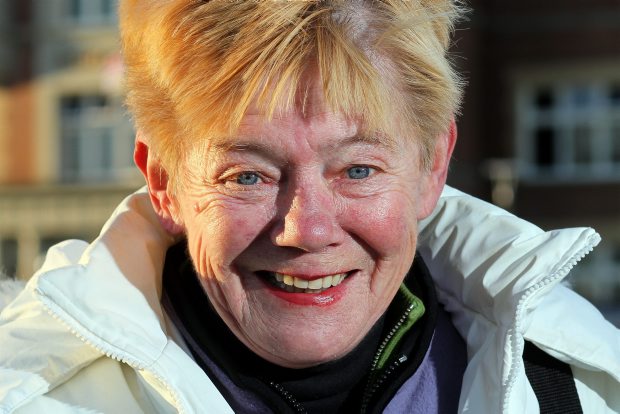 Lea Johnston Tuesday outside the Vancouver Island Regional Correctional Centre on Wilkinson Road.
Photograph by:
Bruce Stotesbury, timescolonist.com
Victoria's David Arthur Johnston has lost considerable weight during his latest three-week hunger strike while serving a 60-day jail sentence, his mother said Tuesday.
Johnston has regularly been arrested since 2004 for sleeping in public spaces and he refuses to eat while in jail. A court order from December prevents him from erecting tents in Centennial Square for one year.
He received a 60-day sentence for breaching that order last month and friends and family know he might not survive, even if released early for good behaviour after 40 days. He was arrested Oct. 25 after pitching a tent for six days where Occupy Victoria protesters had set up their encampment on Oct. 15.
Johnston was already looking gaunt when he appeared in court via video from the Vancouver Island Regional Correction Centre on Nov. 2. He looks even worse, Lea Johnston said, after 21 days.
"I don't worry, it's against God's laws," she said from outside the jail on Wilkinson Road. "I have so much faith, I could move mountains."
Lea flew in from Blackfalds, Alta., Sunday morning and went down to show support for Occupy Victoria protesters by mid-afternoon before going to visit her son.
Johnston only drinks water while in prison, but all he talks about is food and the meals he wants to eat when he gets out, his mother said.
"All he watches on TV are food programs," she said.
Lea knows people criticize her son, but she firmly stands behind his beliefs. Johnston has built a reputation for being Victoria's right-to-sleep protester since first getting arrested in 2004. He has routinely served sentences without eating.
In his most recent case, city lawyer Troy DeSouza asked the court to impose a sentence of four to six months, saying Johnston will only breach court order after court order.
Lea knows her son could die in jail, but with a little faith he might make it, she said. "I hope so. I know his mind can make it, but I'm not sure his body can."
Johnston survived a 36-day fast in late 2006, when Supreme Court Justice Robert Bauman described him as a man of principle and a spiritual man who could be trusted to keep his word to stay out of the grounds of St. Ann's Academy.
dspalding@timescolonist.com
We thought you might also be interested in..
Notice
: Undefined index: event in
/home/viccity/public_html/v2/content.php
on line
67