Voter turnout sees sharp jump in two days of advance polling
Nov 16 2011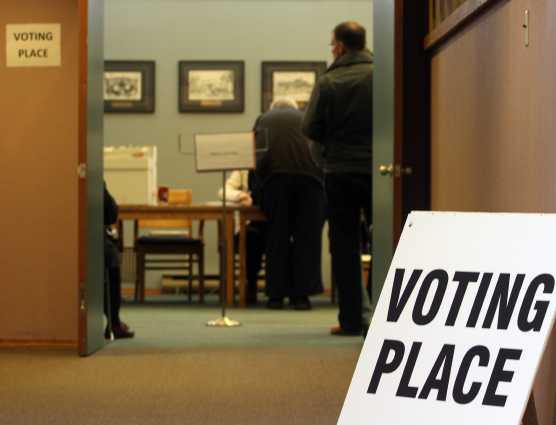 People cast their ballots at advance polls in Oak Bay last week. The second day of voting takes place today.
Photograph by:
Adrian Lam, timescolonist.com
If the advance polls in Victoria and Saanich are any indication, voter turnout for Saturday's municipal election is on the rise.
Both municipalities saw a marked increase in voter turnout at two days of advance polls. The region's other municipalities hold their second day of advance polling today, from 8 a.m. to 8 p.m. at their municipal halls.
That increase is good news for the candidates and community groups who have been campaigning and encouraging citizens to exercise their right to vote. Traditionally, municipal voter turnout is low, often at only about 20 per cent.
"It's very encouraging," said Don Anderson, a member of the Saanich Civic League, a community group with the aim of increasing voter participation in elections. "It's one of the byproducts of having a challenge for the mayor's race. People are engaged and paying attention, and that's a good thing. I'm hopeful we'll see that Saturday as well."
In Saanich, where the most hotly contested mayoral race in decades is underway, the number of people voting in advance polls was up almost 50 per cent. In 2008, 825 voters took advantage of two days of advance polls. In the last week, 1,264 voters came out.
Results of those ballots won't be tabulated until the end of voting on Saturday.
The region's largest municipality has two veteran politicians vying to lead: incumbent mayor Frank Leonard and former Saanich councillor and NDP MLA David Cubberley.
Both are experienced politicians who are campaigning hard. Several municipal community group members say it's unfortunate that one of them has to lose, because they're both excellent candidates.
Leonard said all candidates are working hard to increase the turnout, but he credits the efforts of municipal and election staff, who have worked to bring more attention to the election, and how and where people can vote. "That, too, is paying dividends."
In Victoria, advance polls were also busy. There is a contested mayoral race, although incumbent Dean Fortin is expected to win handily over challengers Paul Brown, Steve Filipovic and David Shebib. There are also 20 candidates trying for eight council seats. All eight incumbent councillors are running. The number of advance ballots cast — 1,408 — was up 24 per cent over 2008.
Both Saanich and Victoria have completed their two days of advance polling.
The region's other municipalities, including Central Saanich, North Saanich, Sidney, Oak Bay, Esquimalt, View Royal, Langford, Colwood, Sooke and Metchosin, are holding their second day of advance polls today at their individual municipal halls.
In Highlands, the mayor and council are facing no challengers. However, there is an advance poll for school trustee voting.
kwestad@timescolonist.com
We thought you might also be interested in..