Occupy protest fragments
Nov 16 2011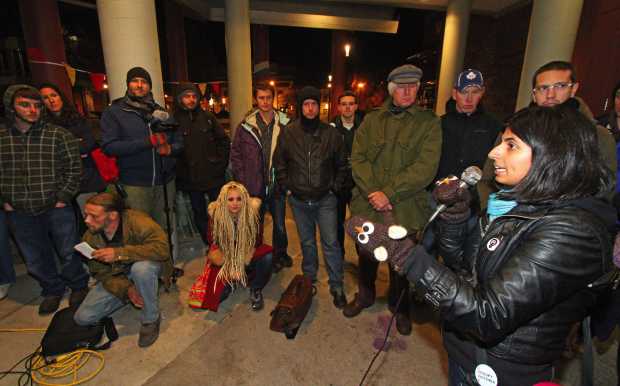 The Occupy Victoria camp at Centennial Square on Nov. 15, 2011.
Photograph by:
Bruce Stotesbury, timescolonist.com
A fragmented Occupy Victoria assembly could not determine late last night how they will respond to the city's potential court injunction, which could lead to a forced removal of their encampment at Centennial Square.
The emergency meeting was called Tuesday morning after the B.C. Supreme Court granted a 48-hour reprieve before hearing the city's application for an injunction to enable the group to prepare their legal argument.
About 60 protesters at the square batted around options for two hours until just after 9 p.m. Those options included a relocation of the camp, temporary disbandment or the status quo.
Members bickered into the night, but could not come up with a unified legal response. In the end, some people said they will stay and others will tell the court they are leaving the square.
Frustrations grew during the discussion until, finally, several of the regular facilitators for such meetings pulled the plug. Three people came forward and said they will declare in court on Thursday that the Occupy encampment is leaving.
Many campers, however, said they will not leave.
"Nobody has to follow if they don't want to," said Anushka Nagji, a law student who has led the legal discussions on behalf of occupiers so far. "In the end, if people don't want to remove their tents, they're not going to move their tents — and that's not our problem."
If the injunction is granted, it would give the city permission to remove the tents and other structures from the square. Many protesters want to do whatever they can to avoid such a confrontation, while others said they want to stay to protest against social and economic inequalities around the globe.
Jason Thompson plans to stay at the square.
"I'm not saying we have to have tents down here. You can if you want to individually ... but I, as a Victorian and Canadian citizen, am going to use my public square to protest in solidarity with the rest of the world," he said.
The group located a lawyer minutes before the court hearing to represent them on Tuesday morning, but the lawyer was simply assisting the court and had not been hired by the group.
Despite the debate among Occupy Victoria members, everyone said they are determined to push forward with the movement.
There is no consensus yet on what that will look like.
dspalding@timescolonist.com
— With a file by Louise Dickson
We thought you might also be interested in..