Four Mile Pub to reopen Wednesday after kitchen fire
Nov 16 2011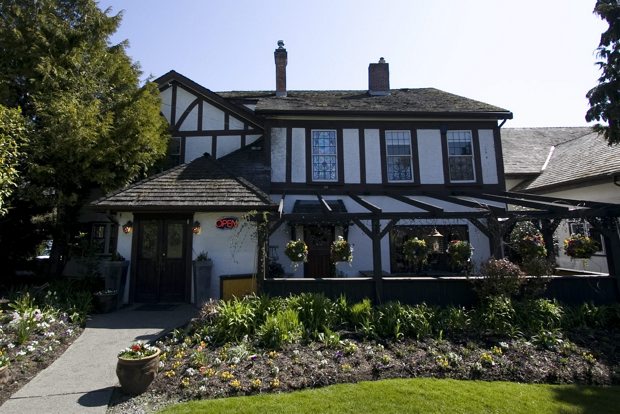 View Royal's historic Four Mile Pub at the corner of Old Island Highway and View Royal Avenue.
Photograph by:
Darren Stone, timescolonist.com
The Four Mile Bar and Grill will reopen Wednesday after a small blaze in the kitchen of the historic three-storey wood building early Tuesday suspended business.
"It's been an ongoing landmark in the community, and around since 1858 in one capacity or another," said owner Graham Haymes, in an interview from Mexico.
"We have a lot of local clientele we're happy to provide a good business for and so we want to get it up and running quickly for them."
Just before 1 a.m., the pub's automatic fire alarm alerted fire crews, who arrived within minutes to find a small blaze in a central kitchen that serves the complex's pub, restaurant and sports bar. No one was in the building at the time.
"It was definitely surprising and initially worrisome," Haymes said. "I'm glad we have the fire department and that it responded so promptly and that we had a proper sprinkler."
Firefighters arrived to find smoke rolling out of the windows, but soon realized the fire was being extinguished by a sprinkler system installed when the building was renovated in 2007.
"The fire sprinkler system performed exactly how it was designed," said View Royal Fire Chief Paul Hurst. "Without sprinklers, the fire would have been much worse. As a result, the building ... is still standing."
RCMP major crimes detectives and fire investigators determined that the fire was not suspicious. "Video surveillance has revealed that the cause of the fire is accidental," Hurst said.
Upon examining the video, investigators saw that during a cleanup before the pub closed at midnight, a container of cleaning rags was accidentally kicked under a convection oven, Hurst said.
The rags soon began to smoulder as the container caught fire and collapsed - falling on top of and eventually consuming a nearby tool kit.
The damage was originally estimated to be $50,000 to $100,000.
However, Haymes, due back from Mexico with wife Wendy on Sunday, said the water damage "is not that much" and contained to an area that won't affect operations.
ceharnett@timescolonist.com
jwbell@timescolonist.com
We thought you might also be interested in..