Civic vote: Parents' group attacked over call to restrict campaigning
Nov 17 2011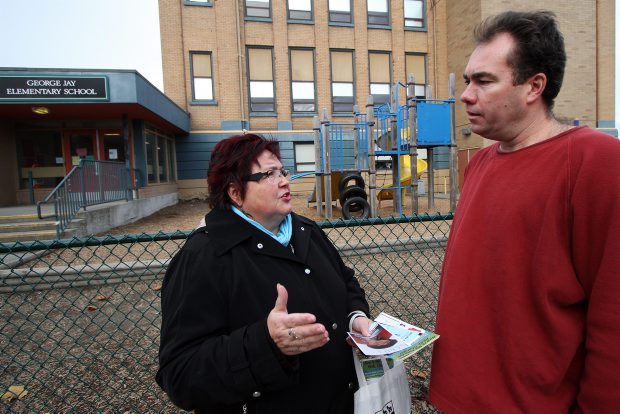 Candidate Edith Loring-Kuhanga talks with parent Jon Franta outside George Jay Elementary School Wednesday.
Photograph by:
Adrian Lam, timescolonist.com
A Victoria parents' group is under fire for trying to stamp out political campaigning near school grounds.
The Victoria Confederation of Parent Advisory Councils recently sent a letter to school board candidates, urging them to refrain from handing out campaign materials to parents on sidewalks or other public spaces just outside school property.
Confederation president John Bird said in an interview Wednesday that students should be shielded from political campaigns.
"We're saying don't stop our car when we have our kid in the car and hand us pamphlets," he said. "Now we've got to go over these pamphlets or talk to the kids or whatever. We don't want them involved in the campaign.
"I guess the risk is if all of the candidates are doing that, in all of the schools, then kids will start talking about issues that they really don't have enough information to make informed decisions [about]. We don't want anybody indoctrinating our kids in different political points of view."
The B.C. Civil Liberties Association and candidates for the Greater Victoria board of education accused the confederation Wednesday of trying to curtail a basic right to freedom of expression in the run-up to Saturday's election.
The association called the confederation's position "deeply concerning" and puzzling. "One of the goals of our education system should be to educate children about the political process and elections and democracy and different ideas," said David Eby, executive director of the civil liberties association. "And what better way to educate them than to see their parents interacting with candidates for political office?"
David Bratzer, who took a leave from his job as a Victoria police officer to run for the Greater Victoria board, said he respects the school district's policy against campaigning on school grounds or at school events. But he said the confederation took it too far by trying to block candidates from speaking to parents on public sidewalks.
"Freedom of expression is a fundamental Canadian value," he said. "It's something that we should teach our children as opposed to trying to hide it from them."
Bratzer joined candidates Edith Loring-Kuhanga, Deborah Nohr and Rob Paynter handing out leaflets outside George Jay Elementary Wednesday. Nohr said parents are glad for the opportunity to talk about the issues and receive information about where the candidates stand. "It's been nothing but positive," she said.
Jon Franta, who was picking up his child at George Jay on Wednesday, said he welcomed the chance to meet the candidates. "I don't have a problem with it at all," he said.
Belinda Collins said she had no idea there was an upcoming election until she spoke to the candidates while dropping off her child at George Jay Wednesday morning. Collins, who now plans to vote, said she would be unlikely to research the candidates on her own, so it only makes sense for them to seek her out at the school.
"I say go for it," she said.
In its letter to candidates, the confederation said it has received complaints of other district policy violations, including campaign materials being left in schools, a vehicle with a campaign billboard parked in a school lot, and district email being used to transmit campaign material.
"These activities erode parents' confidence in trustee candidates individually and the board of education as a whole," the letter said.
lkines@timescolonist.com
We thought you might also be interested in..