Occupy Victoria camp breaking up
Nov 17 2011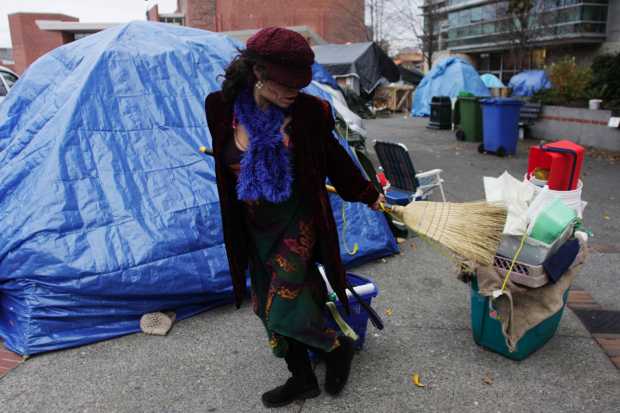 Loni Linai moves out of the Occupy Victoria camp in Centennial Square on Nov. 16, 2011.
Photograph by:
Lyle Stafford, timescolonist.com
The last of the Occupy Victoria protesters huddled under dripping wet tents and tarps in Wednesday evening's heavy rain as they prepared for their final night in Centennial Square.
Most of the dozen remaining tents dotted around the square were already empty by mid-evening, with their owners anticipating a court injunction today that, if granted, will give the city permission to remove the tents and other structures from the square.
"We pretty much know what's going to happen with the injunction," said Celine Daoust. She said she has has been at the camp with her husband, Gerry, for most of the protest.
"There's not too many of us willing to be arrested and lose all our belongings, so this is like the last night I guess," said Daoust, who was at the camp as a self-appointed representative of the working poor.
Lawyers for the protesters filed a defence Wednesday, but did not have time to prepare a detailed constitutional challenge to the injunction request, Daoust said.
However, many protesters are planning to re-start the camp elsewhere in Victoria, she said.
"It has been such a learning experience for all of us."
Some previously said they would continue their protest against corporate greed and income inequality through other demonstrations, such as flash mobs.
Earlier Wednesday, city staff began dismantling the Occupy Victoria camp, taking down wooden structures and throwing away garbage.
Trucks rolled in about 9 a.m. after one of the protesters asked Victoria fire inspectors doing their daily safety check if some of the garbage could be removed.
Workers took away shopping carts, mattresses and wooden flats, and dismantled a wooden fence around the food tent.
They also started cleaning up leaves and putting Christmas tree decorations on the sequoia tree, work that had been delayed because of the encampment.
Victoria police were on scene but there were no conflicts. Victoria police spokesman Const. Mike Russell said the department has spent $36,000 in overtime costs patrolling the demonstration since it started Oct. 15.
Only a handful of protesters watched the cleanup and most of the two dozen tents still in the square were empty.
While some complained of their personal belongings being trashed, city spokeswoman Katie Josephson said workers were only taking items that people wanted gone.
Two men rifled through a garbage bin trying to salvage items that had been thrown out. Both said they're willing to pack up and relocate the protest.
Victoria Coun. Philippe Lucas said he was disappointed the crews started throwing people's things away a day before a court hearing that will decide whether the protesters have to clear the square.
"I think it's a real shame for those who really wanted to ... jointly and together walk away with heads held high and choose their own fate rather than have it chosen through the courts or through actions of the city or police," Lucas said.
Frederick Rousseau, 22, said he is not willing to move if the courts force an eviction.
"The tents here are needed. The public wants it," Rousseau said from behind the counter of the food tent. "We're agreeing to work with [the city] and cleaning it up. So the tents stay ... but the garbage goes."
Victoria police spokesman Const. Mike Russell would not say how police will deal with protesters who refuse to move but reiterated that police remain committed to a peaceful resolution.
On Oct. 15, people in Victoria and cities around the world set up camps, following the lead of those at the Occupy Wall Street protest in New York's financial district.
But complaints of drug use, crime and health and safety concerns have led many cities to evict the protesters.
City of Vancouver lawyers were in court Wednesday arguing that the tents surrounding the Vancouver Art Gallery should be removed.
On Tuesday, New York police officers in riot gear forcibly removed protesters in Zuccotti Park, which led to clashes and arrests.
kderosa@timescolonist.com
jlavoie@timescolonist.com
We thought you might also be interested in..