City housing in former motels dogged by rising police calls
Nov 17 2011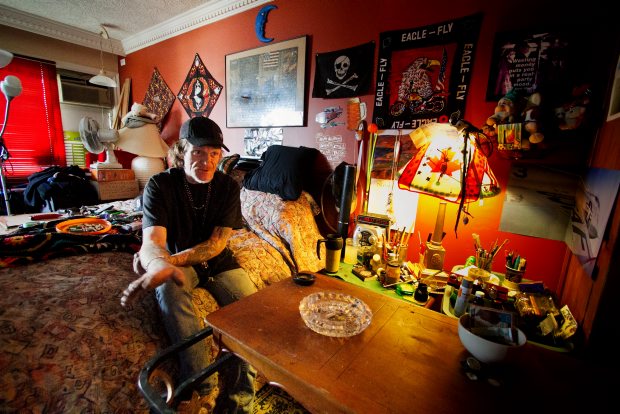 Doug Chipera and his fellow tenants pay $375 a month for a 300- to 400-square-foot room at Queens Manor.
Photograph by:
Darren Stone, timescolonist.com
It has been more than a year since the City of Victoria purchased two decrepit Traveller's Inn motels with the aim of providing affordable housing for the homeless.
At a price tag of $5.6 million, one of the buildings remains shuttered and the other - Queens Manor at 710 Queens Ave. - has increasingly been the source of police attention and frustration for neighbouring businesses, which complain of drug-dealing and illegal activity. But those who live there say it has given them a shot at stable housing they otherwise would have been without.
Queens Manor, managed by the Victoria Cool Aid Society and staffed 24 hours a day, provides supportive and transitional housing for 36 of the city's hardest to house - people struggling with drug addictions, mental illness and criminal records.
Calls for police service at 710 Queens have spiked in the past year. Victoria police say many of the calls they had been responding to in the 900 block of Pandora Avenue have shifted to the 700 block of Queens. The Pandora area near the Our Place drop-in shelter had long been a haunt for drug users.
In 2010, Victoria police responded to complaints at Queens Manor 61 times.
That compares with 119 times between January and October this year, according to police statistics. The city bought the building in July 2010, and residents started arriving last November.
Calls to the neighbouring Traveller's Inn building at 760 Queens, which is privately owned, have also risen dramatically, from 49 in 2010 to 111 for the first nine months of 2011.
The statistics did not break down whether the calls were high-priority or routine. Police spokesman Const. Mike Russell said police typically respond to disturbances and "unwanted guests," and haven't had to deal with a lot of violent crime. However, there has been more drug-dealing in the area, he said.
In comparison, in the past year Victoria police have investigated homicides at two low-rent motels, 2828 Rock Bay Ave. and 626 Gorge Rd. East, both former Traveller's Inns now called City Metro Suites.
Russell said because 710 Queens is manned by trained resident support workers around the clock, police are sometimes called before a verbal argument can escalate into a physical one. That's an improvement over the situation at the 900 block of Pandora, which is a "free-for-all" once the nearby Our Place shelter closes its doors at 5 p.m.
Calls for service to the 900 block of Pandora have dropped from 273 in 2010 to 209 so far this year.
But business owners near the four-storey Queens Manor say they are frustrated by drug-dealing, discarded needles, fights, prostitution, trash and general disorder that have surrounded the property since the city took it over.
"Of course [there have been problems]. When you put a bunch of people with problems together, that's what you get," said Nabil Gabriel Fayad, owner of Alexandria Designer Rugs and Furniture at 2353 Douglas St., immediately next door.
The problems range from people barging into Fayad's store demanding money, to needles discarded in his planter, to people screaming from balconies.
The city seems to have been making more of an effort to clean up the property in the past few weeks, Fayad said.
"I haven't had anyone barge in here in the last two weeks. But just prior to that, you don't know what to expect," he said. "Right now, it's not too bad - I don't hear anybody howling."
Ron Floyd, resident manager of the adjacent Traveller's at 760 Queens, said he has several times had to go toe-to-toe with people fighting or screaming in the middle of the night. Problems with people coming and going at 710 are predictable, he said. "They're all related to drug use."
Floyd said the short-term and monthly guests at the economy hotel he manages are screened and well aware of expected behaviour if they want to stay.
Cool Aid's assistant housing manager, Ian Munro, said staff are diligent in trying to keep unwanted drug dealers away from the building, since many of the residents are trying to overcome addictions. Staff work closely with other agencies helping the residents, such as the Assertive Community Treatment teams and AIDS Vancouver Island.
Cool Aid has experience managing several other affordable housing complexes in the region.
"Our biggest challenge is we're having people who are heavily entrenched in the street culture and there are negatives associated with that. That's been their survival mechanism in the past," Munro said. When staff see that a resident is engaged in criminal behaviour, "we confront them with it and let them know, 'These are the boundaries and this type of behaviour isn't acceptable.' Our hope is to try and create more of a healthy, safe community."
Mayor Dean Fortin said many of the calls attributed to 710 Queens likely arise from occurrences in the vicinity and 710 is simply the address used to identify it. "So often everything is centred on 710. But there's the calls inside the building that can be isolated versus out and around.
We continue to work with people to lower it and we know there are other concerns," Fortin said.
The city has secured $2 million through the federal government's Residential Rehabilitation Assistance Program, money earmarked for renovations on the two buildings.
Munro said after the renovations, the suites in the Queens building will be outfitted with kitchenettes, new carpets and a fresh coat of paint, "basically to look more like an apartment building and less like a hotel."
Renovations are due to begin in January and will be done one floor at a time.
Munro said if any residents have to be moved, Cool Aid will house them in another building until the work is complete.
The second Traveller's Inn purchased by the city, a 68-unit building at 120 Gorge Rd. East, will be upgraded and will eventually house low-income First Nations families.
Doug Chipera, who has struggled with heroin addiction since he was 18, credits the staff at Queens Manor for helping him get off the street and continue with his drugrehab program.
Chipera, 54, spent most of his life self-employed and running a junk hauling and moving business. But he found himself homeless with only the clothes on his back in early 2011 after a bad breakup with his common-law wife.
The staff made exceptions to let him stay with a fellow resident for three weeks until a room opened up for him in May.
"People, for the most part, are pretty respectful," Chipera said of fellow tenants, who pay $375 a month for a 300-to 400-square-foot room. "There is drug use going on here, but it's not as bad as when I first moved in here because Gary [MacDougall] and the staff have cleaned it up quite a bit. The [drug] selling part is where they've put their foot down," he said.
Chipera, who is on a low dose of methadone, said he avoids the 900 block of Pandora because of the constant temptation to buy drugs, and doesn't want to see dealers at his door every day. "When it's right in your face, it's hard. I struggle with it every day: do I use or not?"
Chipera has made the place his own. His room is cluttered with furniture and every flat surface is covered in trinkets, flags or stuffed animals, an eclectic mix of things he has scavenged or hauled out of the dumpster.
"This is my place. I'm responsible for it and if I screw up, I own that."
Victoria council candidate Robin Kimpton, who owns neighbouring 760 Queens, said he wrote to Fortin on behalf of several local businesses.
"I wrote to the mayor saying that the activities at 710 were out of hand, whether it be flailing or drug-dealing or open drug-dealing on the corner, and that the businesses of this area did not want 710 to be continued as social housing in this location," Kimpton said.
Some improvements have been made, Kimpton said. Some garbage bins have been brought in and the city has ripped out overgrown foliage.
Bill MacMunn, general sales manager of Budget Car Sales, across the road from 710 Queens at 2224 Douglas St., said his company is and has been supportive of social service agencies like the Mustard Seed and the service that the bottle depot provides.
But 710 Queens has introduced a new dynamic, he said. "It seems to have attracted different individuals into the neighbourhood," he said.
"From a business standpoint, I've struggled with people walking through the lot with carts and bottles.
I've struggled with them asking customers for money - all those different circumstances that occur.
"It's very difficult to conduct business when you've got a client sitting there in a car and one of the people walking by asks my customer if they want to get high," MacMunn said.
Fortin is optimistic that, now that Gold's Gym has been cleared to move into the former NOW Furniture building at the corner of Queens and Douglas Street, its presence will help the neighbourhood.
"The more activity you have, the more people you have, the more activity you have on the streets - it all helps," he said.
kderosa@timescolonist.com bcleverley@timescolonist.com
We thought you might also be interested in..