Civic vote: Fortin stands by record as challengers take aim
Nov 17 2011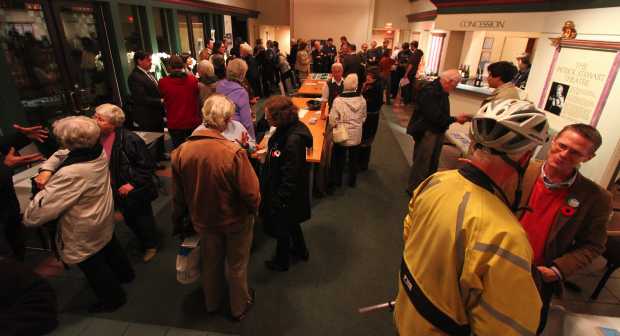 Voters were given the chance to meet Victoria's candidates at a recent meeting at the Belfry Theatre.
Photograph by:
Bruce Stotesbury, timescolonist.com
Looking out his office window, Victoria Mayor Dean Fortin watched as bylaw enforcement officers handed out notices of a pending injunction to move protesters' tents from Centennial Square.
The move, he said, isn't contrary to an earlier council decision to support the Occupy Victoria protest.
"The injunction is just to remove the chattels. People have the right to assemble and that's really important to me and everyone else," Fortin said.
It's a no-win for the mayor.
Protesters argue that forcing them out is hardly supportive, while Paul Brown, one of Fortin's mayoral opponents, says the city didn't move quickly enough in attempting to clear the square, the site of a makeshift tent city since Oct. 15.
It's ironic that anti-poverty protesters would target Fortin's city hall — a champion of the disadvantaged and disenfranchised.
Early in its term, council identified homelessness as its No. 1 priority. Three years later, the mayor proudly points to the 800 new units of affordable housing created during his term.
But Brown said spending about $8 million to buy and renovate two Traveller's Inns to take 36 people off the street is not good fiscal management. Fortin counters that when other governments' contributions are factored in, the city's cost on the Traveller's properties was only $1.2 million, and when the second Traveller's Inn on Gorge Road East reopens, another 68 units could be added.
Mayoral candidate Steve Filipovic said councillors should think outside the box on homelessness and consider a tent city like Portland's Dignity Village.
At all-candidates meetings and in debates, Fortin has been under the gun on a number of issues ranging from fiscal management to council transparency.
He said the city has been making progress on a lot of downtown issues. Incidents of social disorder have decreased by 26 per cent on his watch. He discounts suggestions that Victoria is losing its commercial base to suburban malls in Saanich and Langford.
"It's not true," he said, pointing to the fact that all the shops on Government Street are now occupied or being opened, a new Burger King just opened its doors on Douglas Street, and a grocery store opened around the corner on Johnson Street.
"The truth is more people are investing in the downtown," Fortin said.
However, Brown this week released a University of Victoria survey that questioned the vibrancy of the downtown economy, citing parking restrictions and enforcement, homelessness and panhandling, and increasing rents as issues of concern.
Fortin said city hall has never been more accessible and cites its official community plan consultation that involved more than 5,000 people.
Still, Brown, who heads the fledgling Open Victoria slate, lists eliminating the city's corporate communications office as high on his to-do list if elected and Filipovic says a vote for him means a vote for real freedom of information, not city spin.
Brown, who ran sixth in a Victoria council byelection a year ago, announced his mayoral intentions last summer and has been campaigning ever since.
He maintains he's within striking distance of an upset, but most observers believe New Democrat-backed Fortin remains a prohibitive favourite.
Brown never managed to attract the support of the business community and has ended up running his campaign on a relative shoestring — about $7,000 — raised through donations from individuals. That's just a fraction of the $74,000 that businessman Rob Reid spent in 2005 in his unsuccessful bid against Fortin. Backed heavily by public sector unions, Fortin spent about $50,000 on his campaign three years ago.
Brown has unveiled an action plan in which he has promised to conduct an independent review of the city's financial condition; conduct a public review of the city's infrastructure needs, develop a prioritized list and build it into the annual budget process; order a review and public report on the city's acquisition and operation of the Traveller's Inns; open discussions with Oak Bay, Esquimalt and Saanich on the feasibility of sharing garbage and organic waste collection services; and eliminate the city's corporate communications office.
Fortin is frustrated by what he considers to be financial misinformation being voiced by his opponents. In fact, Brown last week issued a retraction about his statements that parks and recreation funding had been reduced by 20 per cent.
He stands by his comments, however, that the city's overall financial position "is ugly," pointing to this year's seven per cent residential tax increase, the city's $500-million infrastructure deficit and a lack of any concrete plan on how to deal with aging infrastructure like the Crystal Pool, which needs replacement.
Some say the real question in Victoria is which of the incumbent councillors may be defeated.
After a quick survey of the 20 candidates vying for the eight councillor positions, one could be forgiven for thinking that — with a few exceptions — the choice is mostly between left and lefter.
Fortin's "Dean's Team" includes fellow New Democrats and council incumbents Marianne Alto, Pam Madoff, Lynn Hunter and John Luton. (Fortin also endorsed Coun. Charlayne Thornton-Joe.)
Notably not endorsed by Fortin is Coun. Philippe Lucas, who, while elected in 2008 under the Green party banner, has since dropped his Green party membership and joined the NDP.
bcleverley@timescolonist.com
We thought you might also be interested in..