It's going to be 'a bit nasty' as snow, wind whack Island
Nov 17 2011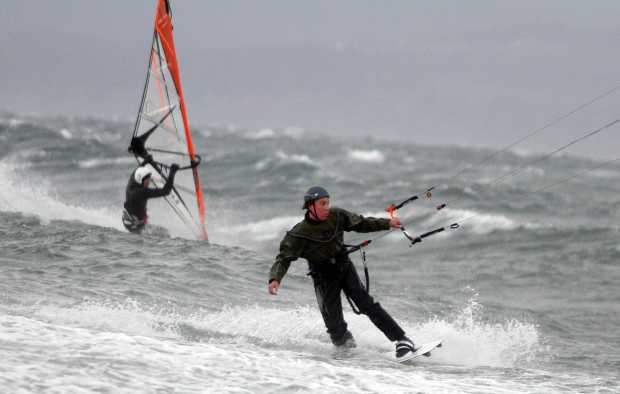 Dave Bileness and Marty Dovick takes advantage of the high winds by windsurfing and kite surfing at Clover Point on Wednesday Nov. 16, 2011.
Photograph by:
Adrian Lam, timescolonist.com
Vancouver Island faced a double whammy from Mother Nature Wednesday as the first significant snowfall accompanied by a windstorm caused vehicle crashes, cancelled flights and power outages.
The wind and snow aided by a big dip in the jet stream coming from Alaska
subsided late Wednesday, but is paving the way for another cold front that is expected to move in Thursday.
"We have some very chilly air moving across Vancouver Island," said Chris Scott, of the Weather Network. "It's going to be cold and we're going to feel it for the next few days."
Low temperatures in the capital region are forecast to be close to freezing Friday through Sunday, with a chance of snow.
"The weather is going to be a bit nasty," said David Jones, a meteorologist for Environment Canada.
"Friday could be interesting. We're not talking about a widespread snowfall here at this point. We're talking about marginal snow, mixed rain and snow, snow at higher elevations and occasional at sea level or just chunky rain."
On Nov. 20, 2010, Victoria got an 11-centimetre dump of snow — almost the same accumulation for the whole of January 2011.
This week's cold weather isn't expected to produce that kind of snow. "The city could see flakes but not enough to stick," said Scott.
November, an historically stormy month, gets the second most precipitation after December.
The Weather Network is predicting a La Niña winter — generally more precipitation and colder — with moderate temperatures.
A La Niña year doesn't necessarily mean we'll get big snow, meteorologists stress.
"There's legitimacy in saying 'look out' but it has to be caged with some caution saying if you're up in higher elevations, it will most likely be bigger. But at lower elevations we'll have to take each storm as it comes," Scott said.
On Wednesday, snow blanketed highways near Courtenay, Campbell River and Port Alberni at times. Environment Canada issued a wind warning as gusts from the southeast blew up to 80 km/h on much of the Island.
The combination of snow and wind proved hazardous for drivers. There were several crashes and power outages affecting thousands of people.
Harbour Air turned around one flight and cancelled six others due to bad weather and high winds.
But weather that proved bad for some businesses Wednesday was good for others.
Brent Curtain, spokesman for Mount Washington Alpine Resort, said snow accumulation in November bodes well for a superior ski season.
"With snow forecast off and on for the next six to seven days, that means we will get a pretty significant snow accumulation on the mountain," Curtain said.
Auto shops and stores around Greater Victoria said winter-tire sales were phenomenal with some brand sizes selling out.
ceharnett@timescolonist.com
We thought you might also be interested in..