Controversy takes back seat in Juan de Fuca contest
Nov 18 2011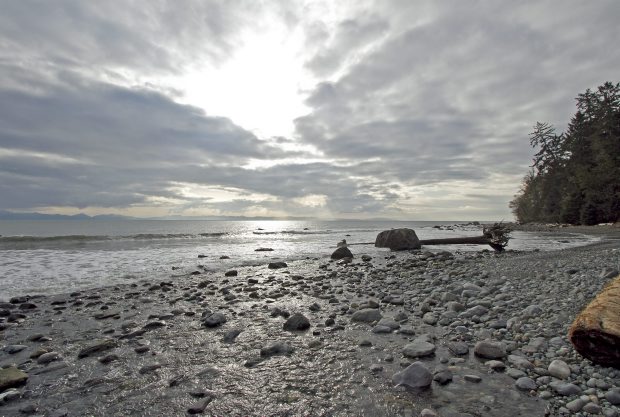 Bear Beach off the Juan de Fuca Marine Trail.
Photograph by:
Debra Brash, Timescolonist.com
The shadow of monumental battles over development still hangs over the Juan de Fuca electoral area, but, for now, the heat has subsided leaving an unusually civil campaign as Alanda Carver of the Muir Creek Protection Society challenges incumbent regional director Mike Hicks.
"I'm just not sensing that there's huge controversy," said Arnie Campbell, Otter Point and Shirley Residents and Ratepayers Association president, who moderated an Otter Point all-candidates meeting.
"Marine Trails still hangs over everything, but, if it had not been for [Hicks's] change of mind after the public hearing and if it had gone ahead, we would have seen a very different campaign," Campbell said.
After three days of public hearings this summer, with the vast majority of residents speaking against a planned resort development adjacent to Juan de Fuca Marine Trail, Hicks voted against the plan. Developer Ender Ilkay is now considering whether to log the area.
"The light bulb went on at the public hearings and I think that may have saved Mike Hicks," Campbell said.
John Walls, of Shirley Education and Action Society, who moderated the Shirley all-candidates meeting, said there are undertones of disagreement over styles of consultation and development, but few divisive issues.
"Both candidates shone," he said. "There were no really personal attacks and I think that's good for everyone."
Many outside Juan de Fuca's sprawling expanse of forest, beaches and small communities on Vancouver Island's southwest corner, will watch the election with interest.
The area, at 1,512 square kilometres, is the largest jurisdiction in the Capital Regional District and potential development along the "wild coast," has sparked regional controversy.
But the district, with six communities - East Sooke, Malahat, Otter Point, Shirley/Jordan River, Port Renfrew and Willis Point - and five First Nations reserves, has only one regional representative.
The regional director is helped by an unelected alternate director and each community votes for a land use committee and advisory planning committee, but some want more control.
"One of the broader issues is governance," Campbell said. "It is really hard for one elected person to govern an area that has such a scattered series of communities with different issues," he said.
Land use and unprotected watersheds remain the biggest concerns, said Carver, a Canada Post employee and yoga teacher.
Most residents rely on wells or private water systems and some are facing water problems because of the province allowing private land to be removed from tree farm licences, meaning more intense logging and less stringent rules, Carver said.
Carver said she has watched land-use battles for 25 years and wants to have community conversations and town hall meetings
Some residents object to the government coming in and telling them what to do, Carver said.
"That's fine, but the community needs to discuss what it wants," she said. "Right now, we can't even get to the 'let's sit down and talk.' "
Some are casting Carver as more environmentally sensitive candidate, but Hicks disagrees.
"I have done more for environmental issues in the last three years than I bet has ever been done in Juan de Fuca," said Hicks, pointing to his push to get the CRD to buy Sandcut Beach and Jordan River waterfront, efforts to have extra water released into creeks to help salmon populations and construction of the Charters Creek Salmon Interpretive Centre.
"I don't go round and talk about it. I just get it done."
Juan de Fuca has the lowest tax increases on Vancouver Island and taxes dropped by one per cent this year, Hicks said.
"When I got in, there was crap everywhere. Now I think everyone is happy," he said.
"I think the biggest issue in Juan de Fuca is whether Mike Hicks is going to get re-elected."
jlavoie@timescolonist.com
We thought you might also be interested in..