Courting demolition: Holiday Court Motel is coming down
Nov 19 2011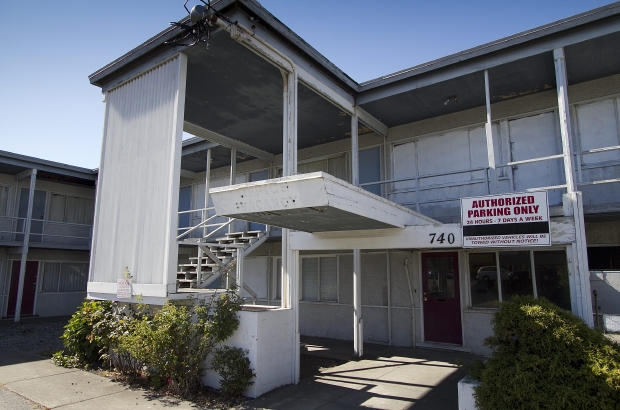 The Holiday Court, shown here in this August 17, 2011 picture, will be replaced with a six-storey office building with retail space and a daycare centre.
Photograph by:
Adrian Lam, timescolonist.com
The days are numbered for the once-notorious Holiday Court Motel.
The magnet for drug users and regular police calls will be torn down in January to make way for a six-storey office building and the new headquarters for plumbing and heating supply company Andrew Sheret Ltd.
Brain Findlay, president of Andrew Sheret, confirmed Friday a demolition and site cleanup will go ahead early in the new year and the $18.5 million project will be ready for tenders by late March.
The Holiday Court, boarded up for nearly a decade, was acquired by Andrew Sheret in 2005 but plans had been on hold during the economic downtown and through a lengthy development permit process with the city of Victoria.
The company scaled back its plans in August, reducing the building by one storey and going with one level of underground parking instead of two. The final hurdle last month to obtain a development permit was a variance to build closer to the street and increase parking from 108 to 124 places.
Findlay said the company has completed geotechnical work on the site at 740 Hillside Ave. and is working on detailed, floor-by-floor construction drawings for various trades before tenders are issued.
The timeline for the project is between 18 and 24 months and it could start by mid-2012.
"We haven't heard one voice of opposition. ... It's something a lot of people want to see started, considering what's there," said Findlay. The project got thumbs-up at a public hearing and the Burnside Gorge Community Association has endorsed the plan.
Findlay said the company has spent a significant amount covering graffiti and keeping the site clean.
The project would have 120,000 square feet of ground-floor retail, with about a third of the space going to Andrew Sheret's showroom brand Splashes, and the rest for a coffee shop or restaurant and other retail. The company would also take the back of the building on Market Street for its service centre and the first floor of office space for administration.
Andrew Sheret, founded in Victoria in 1892, is family-and employee-owned with 300 employees in 23 locations across the province. It also has an affiliated company, Frontier Plumbing & Heating, operating seven locations in Alberta and Saskatchewan.
A daycare with outdoor play area with spaces for 20 children is also part of the plan and there is room for a 60-bicycle lockup and shower facilities, green spaces and water features outside.
The remaining five floors of class-A office space, serviced by highspeed elevators, will be leased on the open market. Findlay is bullish on finding tenants.
"We believe there is good demand for people who want to be close to downtown, but not too far out," he said. "Once you get past Hillside, traffic issues can create a great deal of difficulty depending on the time of the day."
The building will be constructed to LEED silver energy-saving standards.
Findlay said the company would vacate its buildings at 712 Bay St. He said there has already been leasing inquiries about the space.
We thought you might also be interested in..