Occupy Victoria: 12 tents remain, police may move in Monday
Nov 20 2011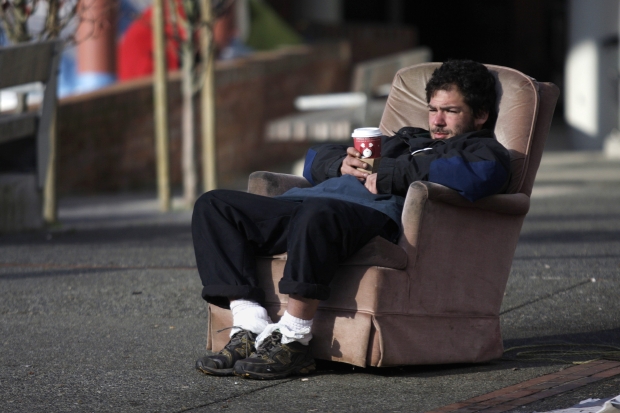 An Occupy Victoria participant at Centennial Square on November 18, 2011.
Photograph by:
Lyle Stafford, timescolonist.com
Occupy Victoria protesters this afternoon discussed the importance of keeping their message alive, despite loosing their foothold of Centennial Square.
The encampment has shrunk considerably, going from about 80 tents at its peak and dwindling to just 12. The largest exodus began Friday after a ruling from the B.C. Supreme Court that ordered campers to remove their encampment by 7 a.m. today.
A handful of Occupy Victoria protesters plan to disregard the order and remain in the square, but that protest could be short lived. The city plans to apply for an enforcement order on Monday, which could give police and bylaw officers the authority to remove what's left of the largely dismantled make-shift community.
About 50 protesters attended a noon rally today, listening to several speakers, who talked about the strength of the international Occupy movement and how its message can continue despite losing physical spaces in cities around the globe.
"It's a movement that has tremendous potential ... but I do believe the movement is doomed to become smaller and more fringe, if the focus is on camping out in terrible rain and snow," said Ken Wu, who is known for his work with the Ancient Forest Alliance.
He urged protesters to clearly identify the changes they desire and to carefully outline potential policies that can bring about that change. With that kind of message, the Occupy movement might be able to convince governments to create regulations that can achieve those goals, Wu explained.
The remaining campers at the square had mixed opinions about how long they will stay to protest. Justice Terrence Shultes did not give the city the authority to forcibly remove the encampment on Friday, expecting protesters to leave on their own.
Joseph Reville said he will keep a tent erected "until the bitter, bitter end," but the make-shift community that took over the square on Oct. 15 has largely disappeared.
"If there's only one or two [tents] left, that's good news," Fortin said in an interview. "The city has been peaceful and pragmatic and, to a certain extent, so have the occupiers."
Some people involved in the Occupy Victoria movement say they will regroup and come up with a new approach.
"Instead of focussing on keeping our presence in the square, we can now ... take all that focus and move it toward direct action, planning rallies, and doing outreach," said Anuska Nagji.
Reville also has plans to sustain the movement. He and several others have created a new Victoria Occupied profile on Facebook in an effort to show that they are not going away.
"It's meant to perpetuate the ongoing demonstration and that's going to include a lot of flash mobs and possibly legal, permitted assemblies," he said.
Jon Dowdall slept in a tent at the square last night and plans to stay, but he does not know how long he will keep his tent.
He supports the ongoing movement as well and would like to see ensure that protests and events continue. He went to Fernwood this week to attend a scheduled camp-out there, but "no one was there," when he arrived.
"I found out later that that somebody canceled it an hour before." he said. "They've been talking about flash mobs for over a week. They should just do them. Stop talking about it and do it."
dspalding@timescolonist.com
We thought you might also be interested in..