Alumni David Foster and Nelly Furtado join in Mount Doug high school musical tribute
Nov 20 2011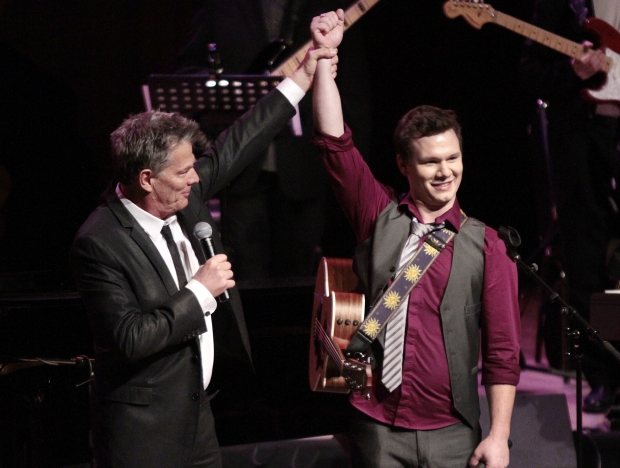 David Foster with Mount Doug Idol winner Kale Penny at the Farquhar Auditorium on Saturday night.
Photograph by:
Lyle Stafford, Victoria Times Colonist, Nov. 19, 2011
The University of Victoria was host to a unique musical event on Saturday night, one which feted Mount Doug high school with an inspired night of music featuring contributions from two of its most famous alumni.
Producer David Foster and pop star Nelly Furtado were on hand for the concert and talent showcase held at the University Centre's Farquhar Auditorium, the finale of a sprawling 10-day celebration honoring the Gordon Head high school's 80th anniversary.
"I love Mount Doug!" bellowed the recently-married Foster, whose new wife of just over a week, Yolanda Hadid, was in attendance. "That's why I'm not on my honeymoon, I'm here in Victoria."
Foster and Furtado were on hand Saturday night primarily to judge Mount Doug Idol, a talent competition featuring former Mount Doug students and relatives of the school's alumni. Tickets sales, including a pre-concert reception featuring both Furtado and Foster, were to benefit the Mount Doug Alumni Association, a registered charity that helps current and future students with bursaries and scholarships.
The talent competition was bookended on either side by musical travelogues that paid tribute to Victoria's most famous musical exports, both of whom were in fine form during the three-hour event.
The evening began with an all-star band playing some of Foster's biggest hits.
The group — keyboardist Morry Stearns, bassist Dennis Ferbey, drummer Brad Clark, singer-keyboardist Duncan Meiklejohn, singers April Gislason and Diane Pancel, keyboardist Thomas Kinzel, saxophonist Chris Millington, and guitarists Norm McPherson and Steve McDonald — kicked their 30-minute set off with Wildflower, Foster's first official hit with the group Skylark.
The Foster creations that followed — I Have Nothing, a song he co-wrote for The Bodyguard; his No. 1 smash, St. Elmo's Fire (Man in Motion); and Unforgettable, a Natalie Cole/Nat King Cole duet tackled nicely on this night by Meiklejohn and Pancel — all demonstrated Foster's expert writing and arranging abilities.
But when the man himself stepped to the stage and took a seat behind his piano, his strength as entertainer and showman took over.
A snappily dressed Foster, who left Mount Doug in 1966 following his Grade 11 year — to pursue a career in music, natch — was all smiles throughout. He paused mid-song at one point to take a cellphone picture, and when he wasn't tossing out one-liners like they were nothing, he was relishing his role as the Simon Cowell of the judging panel, which also included Furtado and his daughter, Amy Foster.
"I'm feeling the love," MC Terry David Mulligan said following a round of praise from the judges. "But where's the bile here?"
"You suck!" Foster joked, delivering on cue.
There were some genuine funny moments throughout. After welcoming his fellow jurors to the stage, Foster was interrupted by a video tribute from two former Mount Doug students, NBA star Steve Nash and former Yahoo! president Jeff Mallett, who were conveying Nash's last-minute bid for Idol inclusion.
The comedy carried over to the judging panel. Foster called Furtado "Paula" at one point, implying her niceties were of the Abdul variety.
High marks were given to the five contestants, who were a mixed bunch, in terms of style, but uniformly great.
Amanda Wood sang jazz; Joni Anderson did country; Cristine Seeber tackled popera; Justin Hewitt represented the folk side and Kale Penny the rock side.
In the end, Penny won the title of Mount Doug Idol. For his Chris Cornell-inspired cover of Billie Jean, the
22-year-old frontman of Victoria band Sunday Buckets earned a Yamaha electric piano and Air Canada flight anywhere in North America.
He also earned the overwhelming good graces of Foster, who performed Man in Motion with the young winner.
"I've been around. But this talent pool was unbelievable," Foster said. "Forget Mount Doug, forget Victoria. This was world-class."
Foster brought Furtado on stage for the show-stopping finale, the highlight of which was Try, a Furtado original that Foster laced with some understated piano.
The last time Furtado performed at UVic Centre was during her own Mount Doug graduation ceremony 15 years ago. She has grown as an artist since then, to say the least: Furtado closed the night with her hit, I'm Like a Bird, which drew a nomination for song of the year at the Grammy Awards in 2001.
During afternoon rehearsals, I'm Like a Bird morphed from an acoustic number to a full-band workout, at Foster's suggestion. Furtado was happy to let Foster have his way, answering with a refrain that typified this night of celebration in honour of the second-oldest school in the city: "Let's have some fun!"
mdevlin@timescolonist.com
We thought you might also be interested in..