Good Neighbours: Volunteers lend muscle to garden cleanup
Nov 20 2011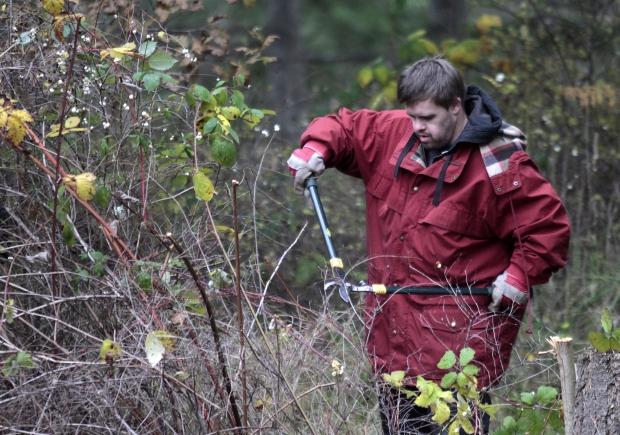 Darrin Schebek cuts brush at the Horticulture Centre of Pacific on November 16, 2011
Photograph by:
Lyle Stafford, timescolonist.com
Volunteers from the Garth Homer Centre are a valuable part of the team restoring a creek area at the Horticulture Centre of the Pacific.
Garth Homer's clientele, adults with developmental disabilities, take on many tasks that make a difference around the region. In addition to the project at the horticulture centre, they can be found working in coffee shops and various other businesses, recycling bottles to fund overseas charities or, at this time of year, collecting donations for Christmas hampers.
The latest stage of the horticulture centre project is being funded by a $5,000 grant from the Victoria Real Estate Board. Three Garth Homer clients go to the Quayle Road site each Wednesday and work under the tutelage of project co-ordinators.
"This grant allows them to be part of a huge restoration project for the creek," said Garth Homer staff member Kevin Steeple.
It also means the Garth Homer clients can continue being involved with a project that has already been going for about four years, Steeple said. The chance to take part provides big benefits, he said.
The clients learn how to do new things, such as taking pH levels to test for soil acidity. Steeple said they have also helped design sheds.
"It's totally outside the box. It's a huge opportunity for them to kind of step outside of their comfort level, with support, and be part of a community project and then be recognized for it."
Steeple said the social aspect is also important.
"They're out in the community working side-by-side with other folks in the community. They build confidence in themselves, and that furthers their confidence in other things they do in their lives."
Horticulture centre executive director Roger Charles said the Victoria Real Estate Board funding not only allows the overall restoration effort to go on, it will also pay to bring in heavy equipment needed for some aspects of the job.
"The donation enhances the whole project, and it's great having the Garth Homer workers here. We've worked well with the Garth Homer Society for years."
PARKLAND STUDENTS PREPARE FOR FUTURE
Parkland Secondary is putting a special emphasis on helping students become solid members of society, beginning with Grade 9 students who have just started their high-school years.
Last week, the Sidney school's 135 Grade 9 students were treated to a program of speakers and activities dubbed Motivation Day. It ties in with staff efforts over the past several years to champion the concept that all Parkland graduates can emerge from the school system as healthy, motivated, responsible individuals.
Those three qualities are printed on Parkland clothing to put them front-and-centre for students.
"We decided last year that we were really going to focus on these pillars," said teacher Christine Irving. "And let the kids know that it's more than a message on a T-shirt."
The intent was also to stress a sense of school community and tradition to Grade 9 students, Irving said.
"We wanted everybody to know this is the school to be at."
Among the speakers talking to the students during the day was Parkland grad Erinne Willock, a world-class cyclist who became the third member of her family to follow a path to the Olympic Games. She was part of the Canadian team at the 2008 Games in Beijing.
Willock told the students she had to stay focused and keep working hard as the games approached, despite the uncertainty of her place on the cycling squad. Another cyclist challenged her selection, but Willock said she persevered and was prepared to compete at the highest level when her chance to go to the games was finally decided.
A key part of the day for the Grade 9s was sitting down to write a letter to themselves, not to be opened until they are in Grade 12, said principal Mark Fraser.
"It's great for students," Fraser said. "For all of us, it's hard to remember where we started, and it's good to see how much we've grown and developed over the years."
The letter-writing/goal-setting exercise will let students see just how far they go in their four years at Parkland, he said.
"To celebrate their achievements in high school, this is a pretty concrete way to do that. And they will still have a lifetime ahead of them."
He said students in all grades can look forward to the possibility of a unique new program at Parkland based on the marine environment. With Tsehum Harbour just across the road and other amenities nearby, it's a natural fit, he said.
"The idea is to look at anything to do with marine sciences and the marine industry."
In a timely donation, the school has just been given a 26foot wooden power boat that will be restored.
"That will be one of the first projects that we work on to support the program," Fraser said.
Olympic sailor Eric Jespersen, another Parkland alumnus, has been talking with staff as the marine-centred idea progresses.
Also on tap for Parkland is the conversion of the library from a traditional model to a tech-driven site known as a "learning commons." Librarian Bonnie McComb said similar changes have developed at the University of British Columbia and other institutions.
"Basically it's open 24/7. Students can access the library remotely, they can actually access the library on their phone."
Even so, there will still be plenty of books available, McComb said.
VOLUNTEERS NEEDED FOR CHRISTMAS MEAL
The 21st annual Christmas Spirit Community Dinner is coming together, but co-ordinator Christina Parkhurst is still on the lookout for donors and volunteers.
Parkhurst said Secret Santas are also needed to sponsor a needy child or family.
The feast will be on Boxing Day this year, with sittings at noon and 3 p.m. at Glad Tidings Church. A meeting for people interested in getting involved takes place today from 2: 30 to 3: 30 p.m. on the upper floor of the Shelbourne Street/Cedar Hill Cross Road McDonald's.
The dinner was started by a group of family and friends, and has gone from an event for 75 people to a holiday repast - and a registered charity - enjoyed by as many as 1,000. Guests range from people who are homeless to those who are alone for the holidays.
In the past few years, the dinner has even included an outdoor barbecue for people who want to avoid the crowds and bustle of the main event.
Contact Parkhurst at 2504721040 or email xmasdins@telus.net.
jbell@timescolonist.com
We thought you might also be interested in..