West Shore mayors fear push for LRT could run E&N renewal off the rails
Nov 21 2011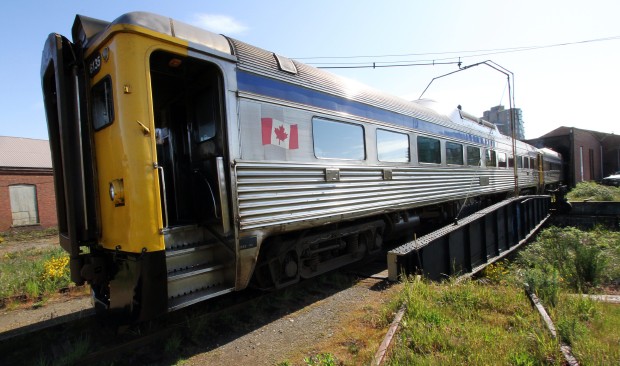 Earlier this month, Via Rail's idle E&N Dayliners left Nanaimo on a barge, headed for Eastern Canada. E&N supporters hope to see an updated passenger train service restored.
Photograph by:
Adrian Lam, Times Colonist
Politicians in some West Shore communities fear the push for a light rail transit system in Victoria could jeopardize their plans to obtain federal funding for the E&N Rail restoration.
Both transportation proposals require money from the federal government in order to move ahead, but proponents of the E&N say Greater Victoria is sending mixed messages by asking for cash separately.
Funding to repair the unsafe E&N line will cost Ottawa $7.5 million, half of the total cost to repair 104,000 crumbling railway ties between Courtenay and Victoria. The proposed LRT system connecting the West Shore communities to downtown Victoria is estimated to cost nearly $1 billion, a large portion of which also would have to be picked up by the federal government.
With Saturday's municipal elections behind them, several West Shore leaders say they will continue to push for funding for the E&N refurbishment, which they believe should come first because of the project's lower cost and potential impact on their communities. There is, however, also wide support for LRT, which would help reduce traffic jams between the West Shore and downtown Victoria.
"I think we should get on with doing the E&N and, when that's in place, see what an impact that has on our needs for transit services," said View Royal Mayor Graham Hill, who won a fourth term in office in Saturday's election. "I'm very excited to continue working on this project, which is vitally important, not just for View Royal, but for all of Vancouver Island."
Hill is also director of the Island Corridor Foundation, which is pressing governments for the funds to restore the railway.
The LRT project has been endorsed by the Victoria Regional Transit Commission, the Capital Regional District and the B.C. Transit Board.
It also has the backing of some local senior politicians, including Victoria NDP MP Denise Savoie, who said Ottawa has the money to pay for its share of an LRT system. She applauds proposals for both E&N and LRT and hopes communities can demonstrate how the projects can work in conjunction with one another.
"If we're united in presenting proposals, we have a much better chance of succeeding," she said. "If we're divided, it does become problematic."
Langford Mayor Stew Young recently returned from Ottawa after visiting with Transport Ministry officials to stress his desire for E&N funding. Young said the $7.5-million investment would have much more economic impact because of the option to ship freight up and down the Island in addition to removing passenger traffic from roads.
The Island Corridor Foundation is studying infrastructure along the track to ensure it can support heavy freight, which currently travels at speeds far less than the normal 50 kilometres an hour because of safety hazards on the aging line.
The LRT and the E&N are separate projects that can both work to solve significant transportation issues, according to B.C. Transit.
"Transportation problems are not solved by one solution," said Erin Pinkerton, the LRT project manager with B.C. Transit. "Transportation is solved by several solutions: Freight, intercity service, rapid transit, all types."
The Capital Regional District board and the Victoria Regional Transit Commission will look for funding sources for the local share of the projected $950-million cost.
dspalding@timescolonist.com
We thought you might also be interested in..