Man posts bail in case where $2.6 million US was tossed into ocean
Nov 22 2011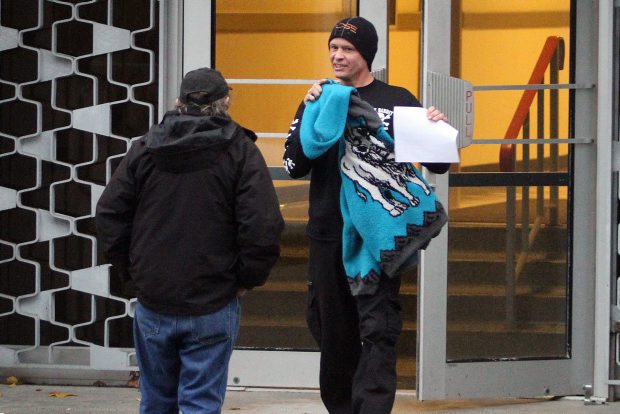 Jeffrey Melchior of Lake Cowichan walks out of the Victoria courthouse after posting $100,000 bail Monday. He has been charged with possession of property obtained by crime and laundering the proceeds of crime after police found a suitcase containing $2.6 million in cash — one of the largest amounts ever seized by RCMP — that was allegedly thrown from a boat in the waters off Sidney.
Photograph by:
Adrian Lam, timescolonist.com
A Lake Cowichan man, charged after a suitcase containing $2.6 million US was plucked from the waters off Sidney, has posted $100,000 bail as a condition of his release.
Jeffrey Melchior, 44, appeared in Victoria provincial court Monday for the setting of the conditions of his release. He has been charged with possession of property obtained by crime and laundering the proceeds of crime.
Federal prosecutor Sharon Steele asked that Melchior's release conditions include depositing his passport and his pleasure craft operator's licence with the RCMP. He must remain in B.C. and notify the RCMP if he changes his address.
Melchior is not to be in any boat or marine vessel, except those operated by B.C. Ferries. He is not allowed to carry an amount of more than $300 Canadian in foreign or domestic cash.
Melchior is to appear in court again on Feb. 13.
On Nov. 1, while officers carrying automatic weapons kept watch, the RCMP held a press conference where they displayed a suitcase filled with $2.6 million — one of the largest cash seizures in their history.
Supt. Derek Simmonds, head of the RCMP's Federal Border Integrity Program in B.C., described a late-night encounter between his officers and a small boat off Sidney.
As the RCMP boat approached a rigid-hull inflatable, a man threw a suitcase overboard. Officers plucked it from the waves before making an arrest, RCMP said.
The incident happened just before midnight on March 24 near the Canada-U.S. border in an area known for smuggling activity. Simmonds said it was necessary to wait several months before making the case public.
The money was organized in multiple bundles and wrapped in plastic. Police are trying to pinpoint what such a large sum was to be used for but believe it is linked to organized crime.
Simmonds said the inflatable was boarded by RCMP officers in Swanson Channel, east of Saltspring Island. The boat was about six minutes from the U.S. border, he said.
ldickson@timescolonist.com
We thought you might also be interested in..