Police clear Occupy Victoria site
Nov 23 2011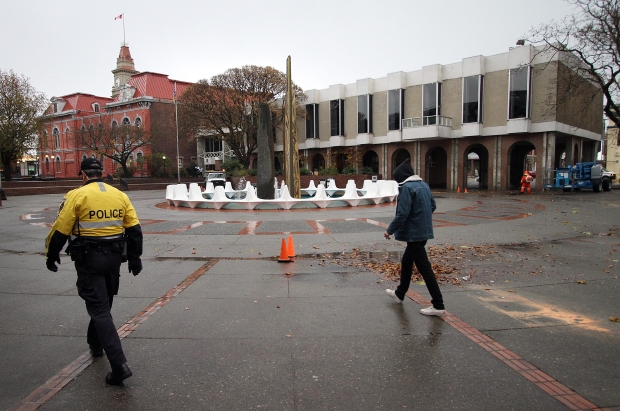 Centennial Square on the morning of Nov. 22, 2011 after Occupy Victoria protesters had been moved
Photograph by:
Adrian Lam, timescolonist.com
Victoria police moved in about 5 a.m. this morning to remove the remaining protesters at the Occupy Victoria site in Centennial Square.
Police spokesman Const. Mike Russell said police went in at that time because they only wanted to deal with those camping in the square rather than supporters who on Nov. 7 flocked to the square and linked arms when there was threat of eviction.
"Part of it was in the past, once there was rumour we were evicting, 200 people showed up," he said. "This was nice and low key."
Russell insisted it was not to avoid media attention.
Police also had to block off Pandora Street near the square to let the city trucks come in for clean up.
He said there were about eight tents remaining and all but one woman packed up and left without issue. The woman was arrested for assault by trespass because she hopped the fence of the CRD building, Russell said.
Some people were taken to the Sobering Centre and others were taken to shelters.
"As we expected, people were going to be upset about it," Russell said, "but at the end of the day, how many chances can we give? They've been there for weeks, we've had ... officers telling them it's time to go, court orders, court injunctions."
On Monday, B.C. Supreme Court Justice Malcolm Macaulay gave Victoria police the authority to arrest the remaining Occupy Victoria protesters for contempt of court.
For the past week, city lawyer Tom Zworski has described the urgency of cleaning up the square for the annual Christmas tree lighting and Santa Claus parade on Saturday.
On Monday, police would not say when they planned on evicting campers, saying they would not release operational strategies.
Several of the protesters said Monday police have been very co-operative the whole time and they expected a peaceful resolution.
Joseph Rivelle said police and protesters talked last week about how things would unfold if an enforcement order was granted.
"We've pretty much been choreographing how this is going to go down since last week," he said. "We've given [police] no reason to come in here with hostility."
Russell said the strategy from Day 1 was to have a constant dialogue with protesters and avoid the clashes seen in New York City and other American cities.
"At the end of the day, we were open and honest and we told them how this was going to play out," he said. "There were no surpises on either side."
The occupation of the square since Oct. 15 has cost the city $140,000, said city spokeswoman Katie Josephson. That includes the added police and security, cleanup costs and repairs to public washrooms.
She said the city has to work quickly to power wash the square and washrooms and clean up any harmful material such as drug paraphernalia in order to make it safe for families attending the Christmas festivities on Saturday.
kderosa@timescolonist.com
We thought you might also be interested in..