Victoria police Sgt. George Chong found guilty of assaulting a prisoner
Nov 23 2011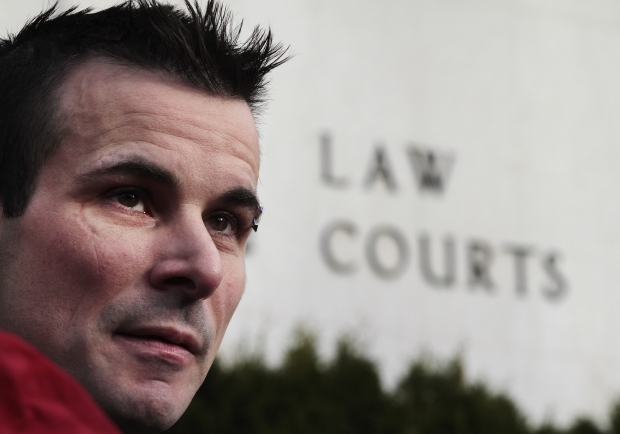 Frank Blair speaks to the media outside the Law Courts in Victoria on November 22, 2011
Photograph by:
Lyle Stafford, timescolonist.com
Victoria police Sgt. George Chong was found guilty Tuesday of assaulting a prisoner being held in police cells last year.
Provincial court judge Herb Weitzel gave Chong, a 29-year veteran of the police force, a suspended sentence and 12 months of probation for assaulting 34-year-old Frank Blair while guards were attempting to fingerprint him. Weitzel said that Chong's application of a vascular neck restraint that rendered Blair unconscious was not necessary.
He pointed out that Blair slipped to the cement floor after the hold was applied and suffered a gash to his mouth that took 15 stitches to close.
Outside court, Blair said he was happy to see justice done. He acknowledged that he had many previous dealings with police, as well as problems with crystal meth and cocaine.
"It doesn't mean I'm a bad guy," he said. "I've paid for everything I've done in life."
He said he lost his relationship with his girlfriend and his four-year-old after the jail incident, but he is now 18 months sober and looking forward strengthening his efforts to stay clean by entering a treatment program in Kelowna next month.
Defence lawyer Dennis Murray said the incident has been hard on Chong and his family.
"This is a sad and somewhat tragic way for a 29-year career to begin to come to a close."
He said Chong is using up vacation days for the time being and is eligible to return to work in February. Chong has not decided whether he will retire.
jwbell@timescolonist.com
We thought you might also be interested in..