Door left open for Oak Bay seniors' centre
Nov 23 2011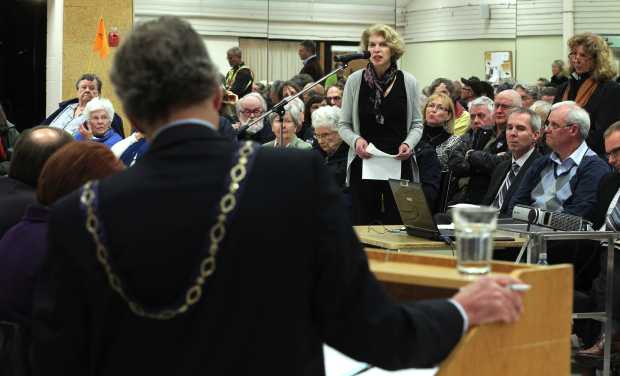 A speaker addresses Mayor Christopher Causton, whose back is to the camera in this photograph, and other members of the outgoing Oak Bay council during Monday's spirited public meeting at the packed Monterey Centre.
Photograph by:
Bruce Stotesbury, timescolonist.com
Oak Bay mayor-elect Nils Jensen said a 3-2 vote to turn down the variances needed for redevelopment of Oak Bay Lodge does not mean the municipality has shut the door on the $80-million project.
"If Baptist Housing were to return to council with this plan or something similar, the new council can consider it," Jensen said Tuesday. "The ball is in their court. We've said all along we would like to see a seniors' facility there, but it has to be one that is appropriately sized and done with the proper consultation."
While Jensen is leaving the door open for another proposal from the Vancouver Island Health Authority and Baptist Housing to build a new 320-bed complex care facility at the Oak Bay Lodge site on Cadboro Bay Road, others say Oak Bay has likely lost the project.
Jensen said the three new councillors being sworn in on Dec. 5 can quickly be up to speed on the issue. But outgoing mayor Christopher Causton said it will be at least six months before council will be in a position to look at the project again. VIHA and Baptist Housing may decide to move the planned complex care facility to another municipality, taking the Oak Bay Lodge beds with it, he said.
"It's a sad day for Oak Bay," said Causton. He and Coun. John Herbert voted in favour of the variances needed for the project.
They were outvoted by Jensen, Coun. Tara Ney and Coun. Hazel Braithwaite.
All the politicians agreed the project is needed for seniors and desired in the neighbourhood. Their concerns were largely over its size — a two-storey height addition is significant in a largely residential neighbourhood — as well as reduced parking, lack of consultation and lack of full information.
Both VIHA and Baptist Housing said Tuesday they are "extremely disappointed" with the decision and are meeting to discuss what comes next. At the lengthy public meeting Monday night, their representatives said if the variances were not granted, the project was dead.
VIHA and Baptist Housing would each provide
$40 million to create the single units that would provide complex care and help for those with dementia.
VIHA would have title to the land so it remained publicly owned. Baptist Housing, which operates several other seniors' care facilities in the region, would operate it.
Baptist Housing found a "unique and complex" funding arrangement with a private pension fund that would provide funding at a fixed interest rate for 25 years, which means less debt servicing than the usual 10-year mortgage from a commercial institution.
To get the funding, Baptist Housing had to have project approval by Dec. 31.
"If council does not approve the variances, council is sending a message to my lender that Oak Bay does not want the proposed redevelopment and the funds will be gone," Baptist Housing chief executive officer Howard Johnson said. "The proposal on the table will die as it is."
VIHA has already started looking for an alternative site in the district, but would not say where.
Rudi van den Broek, manager of special projects for VIHA, said chances of the Oak Bay Lodge replacement project moving elsewhere are in the "high 90s."
"We have, frankly, a real need to replace 320 aging beds. We are working hard to replace them in the community and we can't afford to wait," van den Broek said.
But it was that attitude that irked many people at the packed public meeting. Numerous residents and councillors said they felt pressured and rushed by VIHA.
Several people questioned the pressing need for quick approval of the variances.
"We have a gun held to our heads folks," said Paul Bramadat. "This is a very manipulative process."
Bramadat said the deal with the pension fund sounds good, but asked why it "wouldn't be as sweet five months from now."
Regardless of where the project finds a home, it still needs funding.
"They say they will have to do the project elsewhere. Where will they get the money to go do it elsewhere?" said Catherine Grant.
kwestad@timescolonist.com
We thought you might also be interested in..