Island man confronts, fights and subdues would-be thief
Nov 23 2011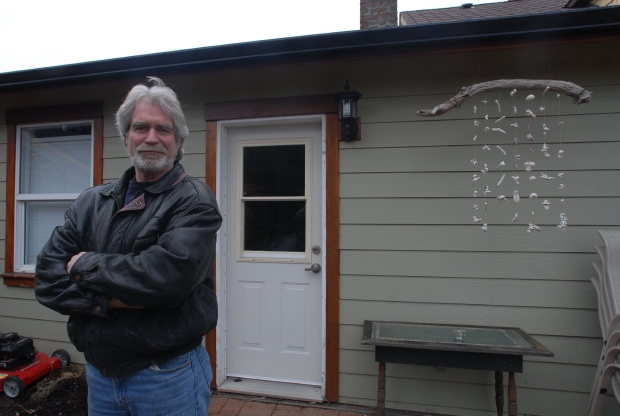 Nanaimo's Jim Symington held down a would-be thief in his home until police arrived. (November, 2011)
Photograph by:
Robert Barron, Nannaimo Daily News
Nanaimo's Jim Symington says he's the last guy who would seek a physical confrontation with anybody. But when he was faced with a man forcibly trying to enter his house last Friday, Symington said he immediately took action, wrestled the suspect to the ground and held him until Nanaimo RCMP arrived to make the arrest.
Nanaimo RCMP spokesman Gary O'Brien confirmed the incident, but warned the public about confronting possibly dangerous offenders in such a manner.
"We would never recommend that people get into a confrontation with anyone trying to break and enter into a building," O'Brien said.
"A lot of times these people are drug addicts with needles and/or weapons who are very goal-oriented and can be dangerous.
"Having said that, people react differently to situations and it was clear in this case that the homeowner didn't want the man to break into his home and acted to prevent it."
Symington said he received a call from a neighbour early Friday morning, warning him that someone had just broken into his own home on Kennedy Street and stolen a laptop computer.
Symington was not at his home at the time, but when he arrived about a half-hour later, he noticed someone was trying to open the door from his backyard into his bedroom.
He said he opened the door and was confronted with a man in his 30s, who was carrying a backpack that looked like it may have held at least one laptop computer.
Symington said he grabbed the backpack from the man and confirmed that it indeed contained the computer belonging to his friend.
He said the alleged thief then pushed him into a water-filled wheelbarrow and the two men started to fight.
"I managed to get on top of him and held him down with my arms and legs while I called the police," Symington said.
"I told the guy not to move a muscle and he didn't until the police arrived, handcuffed him and took him away. I think that if my friend hadn't of called me and warned me there was a thief in the neighbourhood, I probably wouldn't have reacted the way I did."
Symington said he "always wondered" what he would do if he found a thief in his home, but he had no idea how he would react until Friday's harrowing incident.
Symington said that he feels the moral to his story is that people should always keep their doors locked at all times, even if they are at home.
"I've heard of cases in the city in which people were robbed while they were in the backyards," he said.
We thought you might also be interested in..
Notice
: Undefined index: event in
/home/viccity/public_html/v2/content.php
on line
67