Grand vision for harbour urged
Nov 23 2011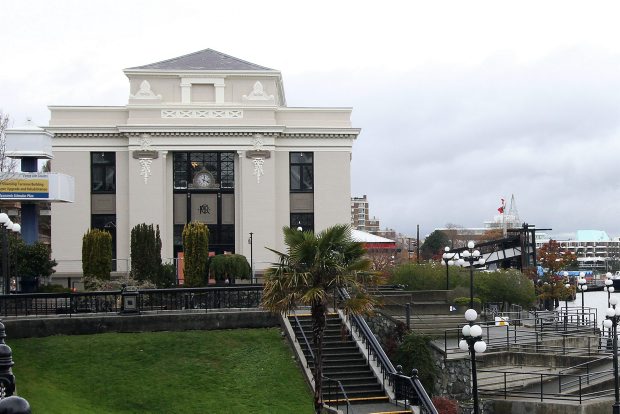 CPR Steamship Terminal: Four bids under review.
Photograph by:
Adrian Lam, timescolonist.com
Victoria's "tired" harbourfront needs updating in an overall plan that would include the CPR Steamship Terminal, says a businessman who has bowed out of a bid to lease that building.
Matt MacNeill, who had proposed a market similar to Seattle's Pike Place for the building, said that rather than offering the CPR building for lease in isolation, the public agencies owning harbourfront land should work together.
The 87-year-old steamship terminal, on the 400 block of Belleville Street, could be included in a comprehensive plan running from Ogden Point to the Johnson Street bridge.
"Change is inevitable. You can have good change, such as the Humboldt Valley," said MacNeill, who owns Victoria Pub Co., which includes the Irish Times and Bard and Banker downtown and the Penny Farthing in Oak Bay.
As for the harbourfront, MacNeill said, "Right now, we have nothing but decay down there."
Improved docks at Belleville Street, a walking path and an end to waterfront parking lots are on his agenda. "The main body of the harbour hasn't been touched right up to the [Johnson Street] bridge. Wouldn't it be great to have something underway by the time the new bridge gets built?"
MacNeill said he remains interested in running a market in the CPR building, but only as a tenant through a sublease.
He was among three groups earlier this year that submitted bids to lease the building from the landlord, the Provincial Capital Commission, and were turned down in the spring.
They were asked to resubmit more detailed proposals by Oct. 28, along with others who had shown interest. MacNeill didn't bid, and said the PCC wanted more rent than would have made sense for his investment and for his risk.
Four bids have been submitted, said Rick Crosby, the PCC's chief financial officer.
Crosby said a long-term harbour plan could take several years to develop, and the vacant CPR building needs a new tenant right away. He said the PCC is investing $1 million over five years to upgrade the Belleville docks. Engineering studies estimate another 10 years of life for the Coho's ferry wharves, and 15 to 20 for the Clipper docks.
The Maritime Museum of B.C. remains keen to move to the terminal from its Bastion Square site, and businessman Bob Wright is continuing with his
proposal for a high-tech attraction on B.C.
The Greater Victoria Harbour Authority is seeking to lease the building and initially sublet it to tenants. The harbour authority's long-term plan is to use the CPR building as an entrance to a new ferry terminal building as part of a revitalization of the Belleville Street lands.
The fourth applicant has asked to remain confidential for now, Crosby said. The names of all applicants will be released after the leasing decision is announced, he said.
A seven-member screening committee has evaluated the four proposals and sent information to an advisory panel, which has been hearing from applicants. The panel's recommendation goes before the PCC board at an in camera session at its Thursday meeting.
No decision is expected that day, but a meeting date for the decision, likely before month's end, will be set, Crosby said.
After the decision is released, the names of the screening committee and advisory panel members will be released.
The PCC's website lists its board of directors as Bill Wellburn (who is not participating in this decision because he is on the GVHA board), Jennifer Clarke, Chris Coleman, Jane Durante, David Everett, Christopher Fairbank, Lynda Hundleby, Lynn Hunter, Wayne Hunter,
Russell Irvine, Dean Murdock and William Oppen.
cjwilson@timescolonist.com
We thought you might also be interested in..