Occupy protesters plan "peaceful" march with Santa
Nov 24 2011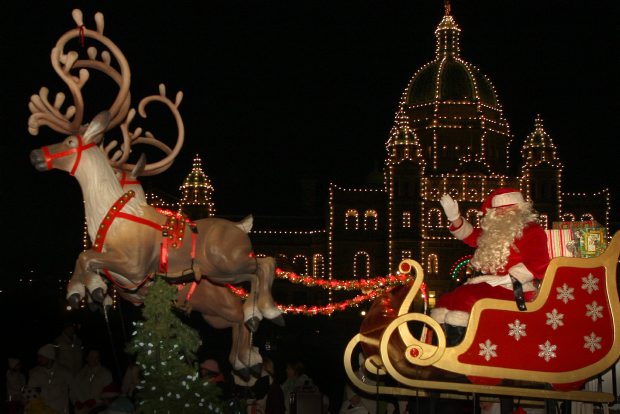 In this file photo from 2009, Santa Claus and his reindeer pass the legislature during the Island Farms Santa's Light Parade.
Photograph by:
., timescolonist.com
Occupy Victoria protesters say they're planning to march in Saturday's Santa Claus parade, sparking objections from some parents.
The protesters, evicted from Centennial Square by police on Tuesday after a 38-day occupation, say they'll march at the end of the parade and are organizing a flash mob to coincide with the light-up of the sequoia tree in the square.
"It's annoying that they're tagging onto every sort of family event," said Lexi Wishlow, a mother of two, who plans to watch the parade. "All they're going to do is irritate people and I don't think it's going to get anyone on their side."
Vanessa Whitmore, also a mother of two, said news of the protest is enough to make her avoid the parade. "Everyone has a right to free speech. I just don't think the Santa Claus parade is the right place to do it."
Ron Butlin, chairman of the Island Farms Santa Claus parade, said he was "disgusted" at the plan. "I think it's pretty sick to try and upset a family parade," he said.
Victoria police say more officers than usual will staff the parade to make sure the protest is not disruptive.
Anushka Nagji, an Occupy protester, said the march will be peaceful and the group does not plan to chant or carry signs with profanity. She said they will dress "seasonally" and hand out candy canes and a "wish list" of donation requests for Victoria social services such as Mustard Seed or Our Place.
"We are not about offending anyone or upsetting families or upsetting children," Nagji said. The aim is to raise awareness about income inequality and corporate greed, she said.
Ken Kelly, Downtown Victoria Business Association general manager, said he hopes "common sense will prevail" and the protesters will pick another venue to spread their message.
The parade starts at 5:45 p.m. Saturday at the legislature, and goes north along Government Street to Capital Iron.
The tree lighting event is from 4 to 5:30 p.m. at Centennial Square.
An ice rink planned for Centennial Square, delayed a week due to the encampment, will open Dec. 3.
kderosa@timescolonist.com
We thought you might also be interested in..