An extreme makeover for Babe's old farm
Nov 24 2011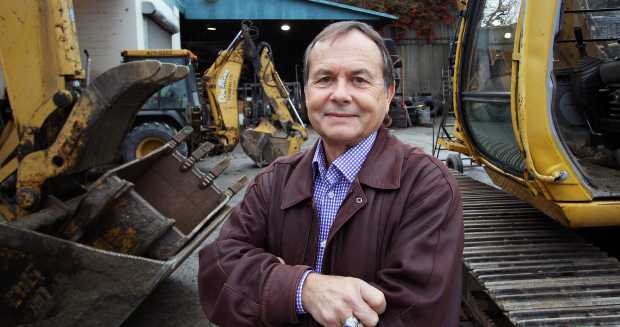 Steve Mann, owner and president of Don Mann Excavating, has bought the land that was once Babe's Honey Farm. Mann plans to restore the land as a working farm.
Photograph by:
Adrian Lam, timescolonist.com
The new owner of the Saanich eyesore that was once Babe's Honey Farm is drawing up plans to restore the land as a working farm.
The extreme makeover is being undertaken by Steve Mann, owner and president of Don Mann Excavating Ltd., at a time when society is increasingly interested in saving farmland and producing local food. High land prices on the Saanich Peninsula make it difficult to get into the business of farming.
Mann will be bringing in bulldozers to level the land, hauling in thousands of yards of top soil, repainting the screaming-yellow outbuildings, and is aiming to get the first hay crop planted in the spring.
He takes possession of the 5.57-hectare property at 334 Walton Place on Dec.1. His offer of $725,000 was approved in court on Nov. 17. Mann's offer was the only one received for the property, said Ken Cloak, associate vice-president of Collier's International's Victoria office, which listed the property.
The land went on the market in a court-ordered sale earlier this year for $1.35 million. A liquidation auction of the farm's assets was held in July.
"We just want to restore it to a farm," Mann said Wednesday. "I live on a farm in the Blenkinsop Valley and both sons have a strong agricultural bent. I don't know if we will keep it in the family or sell it at some point, but it's a mess right now."
Babe's Honey Farm was a long-established business in Greater Victoria, founded by Alison (Babe) Warner and her husband, Charlie, who predeceased her. Babe died in 2006 and a group of investors, led by Sidney accountant Mark Pitcher, took over operations.
The company went into receivership in February, with a mortgage owed of $908,000. Pitcher was arrested last December and is facing seven counts of fraud totalling $1 million. He has an April court date.
Although the property is in the Agriculture Land Reserve, it is not ready to be farmed. Thousands of truckloads of fill have been dumped in past years on the high-profile corner of Walton Place and Oldfield Road, where it sits among some of the most productive farms on the Peninsula. Mounds of fill cover the uneven, overgrown site.
"It's in a great location. [On] Oldfield Road there are all nice farms . . . except that," Mann said. "That one looks like a bomb went off."
The Agricultural Land Commission ordered soil reviews from the land. Much of the fill came from the Uptown shopping centre and Victoria International Airport.
Mann said soil reports found there was a "slight amount of contamination . . . but it was not to a degree that it needed to be remediated. It wasn't enough to thwart agricultural use."
Reports recommended leaving the material in place, he said. Although Mann knows creating a farm will require thousands of yards of top soil, calculations have not been done on exactly how much will be needed.
His aim is to remediate the site in a natural way. "Our plan is to get the grass growing, and then put animals on it that will manure it. Sheep or cattle or something will restore it over the years on its own."
After taking possession next week, Mann, who already has excavating equipment through his business, plans to start levelling the site with bulldozers.
"It may be too wet to haul topsoil in," he said. "We are always looking for projects that we can put our employees on to when it's winter and it's slow and there's nothing to do. So we are going to drop some equipment there. We are going to level it so I can take a hay crop off it . . . We'll import top soil, put it over it and then plant a crop."
He's hoping to have a section ready by April or May for seeding. "Then people will really know what we are doing there. We couldn't accomplish it all in a year. But we can accomplish a few acres each year."
Outbuildings will remain, including the 1,057-square-metre warehouse, Mann said.
The state of the site was raised as an issue in the recent municipal election. Saanich Mayor Frank Leonard said he had heard confidentially from the Mann family of their interest in the property and was not able to speak publicly about it.
He welcomed the Manns' plans to clean up the site. "Clearly they can do it at a competitive advantage," Leonard said. "The community will be thrilled."
Also, it appears that the Babe's Honey operation may have a second life. A local resident who purchased the bees has plans to get into the business, Leonard said.
cjwilson@timescolonist.com
We thought you might also be interested in..