Sandown farm plan further along the track
Nov 24 2011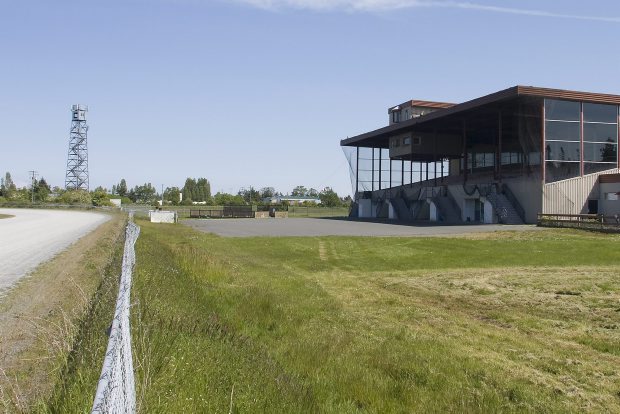 Sandown Park in North Saanich closed in 2010 after more than a half century of horse betting.
Photograph by:
Bruce Stotesbury, timescolonist.com
A plan to use much of Sandown racetrack for agriculture in return for rezoning a smaller parcel of land for commercial use took a technical but necessary step forward Wednesday when the regional district approved amending the municipality's regional context statement.
In the world of acronyms that is often part of municipal and regional politics, the RCS is the backbone of each community's community plan. The RCS addresses how local planning and land use policy fits in with an overall regional plan (the regional growth strategy or RGS).
A change was needed for the Sandown proposal bylaws to proceed to third reading before North Saanich council. If approved then, a public hearing would be held.
The Sandown proposal would see 4.8 hectares on the eastern side of the property along McDonald Park Road taken out of the Agricultural Land Reserve and rezoned for commercial use.
The remaining 33.5 hectares, on which the racetrack and buildings stand, would be owned by the municipality and consolidated into one property, which would only be used for agriculture and accessory uses in perpetuity.
Uses could be anything from one big farm, to small farm allotments, community gardens, farmers markets to educational initiatives by universities and other organizations.
So that there is no net loss to the amount of land in the Agricultural Land Reserve, 4.8 hectares off Littlewood Road, just behind the municipal hall, would go into the land reserve.
The proposed commercial zone off McDonald Road would allow for a variety of businesses, but would specifically ban any gaming or casino or big box stores.
The Agricultural Land Commission has approved the land swap.
The regional growth strategy, which outlines how development happens throughout the 13 municipalities, does not currently allow land swaps. However, it is to be reviewed this year, with one aim to provide flexibility for local circumstances or conditions without undermining regional planning principles.
"In this case, the sense is we need to update the regional growth strategy and move toward the type of proposal proposed here by North Saanich as opposed to the other way around," said Margaret Misek-Evans, senior manager of regional and strategic planning.
kwestad@timescolonist.com
We thought you might also be interested in..