Parrots paint with panache at Coombs refuge
Nov 25 2011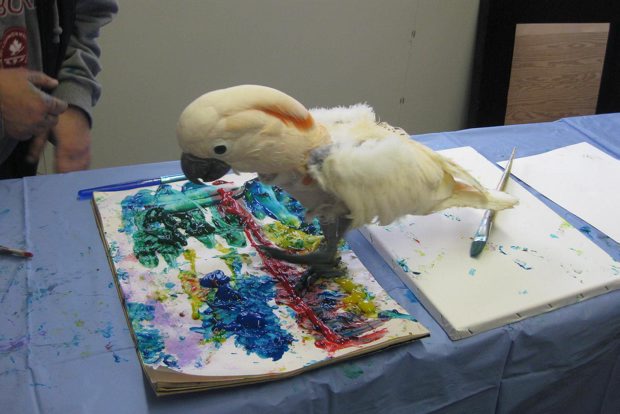 An artist's feet accompli.
Photograph by:
Stephanie Martin, .
"They pick them up and, in no time, crunch. They don't eat them, they just break them," said Wendy Huntbatch, president of the World Parrot Refuge in Coombs.
Parrot art is the latest fundraising venture for the cash-strapped refuge, which is home to more than 800 birds discarded or mistreated by former owners.
"Every painting will be different. They are so imaginative," Huntbatch said enthusiastically after the first art trial. "I think the cockatoos are going to be the best artists."
The paintings, on stretched canvas, will be sold at the Parrot Refuge and each one will be personally signed, with a footprint, by the bird artist.
Group painting sessions tended to get a little hairy — or feathery — with paint splattering in all directions and no defined artist for each piece, so staff are restricting art classes to two birds at a time.
"They are doing amazing work," said supervisor-turned-art-teacher Stephanie Martin.
Bailey and Peaches, umbrella cockatoos, favoured reds and yellows with impressionist influences.
"Bailey is using her tail so her paintings feature a sweeping effect — sort of feathering. Then she slides on it," Martin said.
"Peaches uses the brushes to throw the paint on the canvas."
Nicky and Sidney, Moluccan cockatoos with pink feathers, preferred the blue and green combinations.
"Most of it is fingerpainting, rather than brushwork. It is pretty abstract and everyone has their own version of what they see," Martin said.
Volunteers are looking forward to exploring the individual talents of their favourite birds and there are great hopes for the abilities of the African greys, she said.
Baths have to follow painting lessons, even though the paint is non-toxic, Martin said.
"And after bath time they like to be blow-dried. They want the full salon treatment," she said.
Huntbatch is desperately hoping the artwork sales will get the refuge out of the red.
"I have enough for payroll this weekend, but the one in two weeks, not a chance," said Huntbatch who is having chemotherapy for cancer, which interrupted fundraising efforts.
Problems are compounded by the poor financial climate as more owners abandon parrots when they cannot afford to feed them, Huntbatch said. "And we are the only place in North America that does this."
jlavoie@timescolonist.com
We thought you might also be interested in..